Golden Globes 2019: Sacha Baron Cohen, Glenn Close, and More of the Wildest Reactions to the Nominations
Take a look at the wildest nominee reactions.
---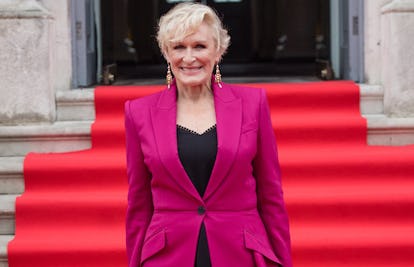 Samir Hussein/Samir Hussein/WireImage
Today brings the nominations for the 2019 Golden Globes and, with them, plenty of celebrity reactions. While most of them fall under the usual gratitude trope, this year perhaps more than in recent ones included some surprises. For one, Glenn Close didn't even fully grasp that she had received a nomination for Best Actress in a Drama category with The Wife.
After the nominations broke, Close—who is speculated to be a front runner for the next installment of the Oscars—was telephoned for her opinion on the nomination. When the Today show rang her up, she hadn't even gotten out of bed, which is both relatable and respectable. "I'm in bed; I did two shows yesterday," she said, as Vulture notes (the video shared by Today has since been removed from Twitter).
Incredibly, Close was actually unaware that today was the day of the nominations, and assumed that the call she received about them was a butt dial. "I didn't even know it was happening," she said. "I was surprised; I thought it was a butt call!"
Sacha Baron Cohen, meanwhile, reacted in a similarly humorous fashion. He used the moment to make yet another joke at Sarah Palin's expense, inviting her to be his date for the awards show. (Sorry, Isla Fisher.) "I appreciate the Hollywood Foreign Press for recognizing me, which luckily is something that none of the guests on the show did. This is such a special honor for me as the HFPA are always among the first to really appreciate my ever-evolving humor," he told Deadline in a statement. "I am humbled to be recognized among such a wonderful group of nominees, all of whom I admire. This show was a labor of love for over two years. It is a shame they overlooked the amazing performances by the rest of the cast, particularly Dick Cheney and Roy Moore. Meanwhile Ms. Palin, despite being cut from the show, I hope you will accept my invitation to be my date for the ceremony."
The sweetest reaction to the news, though, belongs to Elsie Fisher. After the actress found out that she received a nod for Eighth Grade, she did what any 15-year-old would love to do. "Going on a little bit of a shopping spree, getting some video games and some records, and taking a fat nap," she told Vanity Fair. "As soon as it was announced, I could hear my dad, like, yell in the other room, 'Yeah!'"