Embarrassing Mom Goldie Hawn Confirmed the Kate Hudson-Nick Jonas Fling
Goldie Hawn may be a national treasure, but no one is immune from embarrassing their children. Only most don't do it on Andy Cohen's TV show.
---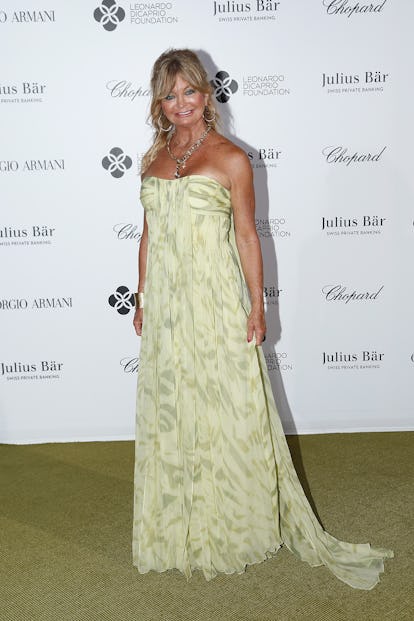 If you were in the Los Angeles area last night and heard, somewhere off in the distance, someone yelping "Moooooooom!" in a mix of outrage and embarrassment it was probably Kate Hudson reacting to Goldie Hawn's appearance on Andy Cohen's Watch What Happens Live last night.
Hawn may be a national treasure that many of us have wished were our own mother, but that national treasure status does not immunize Hawn from a flaw common amongst most moms: being totally embarrassing. In fact, her fame means she can take delight in embarrassing her children on a national level.
Hawn and Snatched co-star Amy Schumer were guests on Cohen's show last night, and a caller asked about Hudson's purported fling with young Nick Jonas. The relationship was widely speculated on in the tabloids, but neither the Oscar-nominated actress nor the Teen Choice Awards-winning musician ever confirmed it. Jonas once did say he and Hudson "had an unbelievable connection as two humans," which is saying a lot without confirming anything.
Well, Hawn wasn't as shy.
"I just wanted to know what your first reaction was when you heard Kate and Nick Jonas were dating," asked the caller.
"Oh, that's too funny!" squealed Hawn.
"Yeah, they go there on this show," said Schumer.
"You know what, let me tell you something, as long as the kids are having fun," continued Hawn.
Cohen also asked Hawn if she ever got a chance to cook dinner for Jonas.
"No, but I would have if it lasted long enough," she replied.
Well, at least the Hawn-Hudson family has a history of confirming or denying Hudson's dating life with jokes. Earlier this year, Kate's brother Oliver Hudson dismissed rumors that Hudson was dating Brad Pitt with a few jokes dispatched on Twitter.
And whatever the situation was with Hudson and Jonas, she's since moved on. She's now red carpet-official with new boyfriend Danny Fujikawa.
As for Hawn, she wasn't done completely embarassing her kids. The Watch What Happens Live YouTube channel has also uploaded a clip entitled "Goldie Hawn Talks About Son Oliver Hudson's Penis."
Hey, it's Mother's Day weekend. She can do whatever she wants.
Related: Goldie Hawn's Keys to a Lasting Relationship With Kurt Russell Are "Family. Fun. Laughs. Sex."
Kate Hudson, Actress and Activewear Entrepreneur, Explores the Sounds of Sequins in ASMR:
Kate Hudson wears Balmain's stretch silk lace and leather dress with zippers, to order, at Maxfield, Los Angeles, 310.274.8800. Yves Saint Laurent shoes; Lanvin ring.

Photographer: Mert Alas and Marcus Piggott Stylist: Alex White
Photographer: Mert Alas and Marcus Piggott Stylist: Alex White
Chanel's silk tulle dress, at select Chanel stores, 800.550.0005. Yves Saint Laurent shoes.

Hair by Luigi Murenu/Streeters for Kerastase Paris; makeup by Charlotte Tilbury/Management Artists; manicure by Yuna Park/Streeters. Production by LalaLand; digital Imaging by D-Touch; postproduction by Dreamer Post. Photography assistants: Angelo Pennetta, Gareth Horton and Maurizio Bavutti. Fashion assistants: Kathryn Typaldos and Martha Violante.

Photographer: Mert Alas and Marcus Piggott Stylist: Alex White
Kate Hudson on our September cover.

Photographer: Mert Alas and Marcus Piggott Stylist: Alex White
Kate Hudson in her Pacific Palisades residence.

Seen from the front yard, Kate Hudson and Chris Robinson's house in the Pacific Palisades has an air of tidy East Coast propriety. It suggests cashmere twinsets, roast beef dinners and a subscription to The Wall Street Journal. But walk through the front door and the mood changes, as if a band of bohemians had arrayed their parents' house with souvenirs of a world tour. Graphic paintings of the Kama Sutra hang near a Georgian mantelpiece in the living room, and the dining room's traditional table is illuminated by a large—and vaguely sinister—all-black Murano glass chandelier. A whiff of incense emanates from the pool house out back, which, with its blaring rock music, pulses like the hippie heart of the establishment…Read the article…

Photographer: Alexia Silvagni
Hudson in the master bathroom.

Photographer: Alexia Silvagni
Photographer: Alexia Silvagni
Photographer: Alexia Silvagni
Kate Hudson in her Pacific Palisades residence.

Photographer: Alexia Silvagni