Goldie Hawn's Keys to a Lasting Relationship With Kurt Russell Are "Family. Fun. Laughs. Sex."
It's worked for her and Kurt Russell for 34 years.
---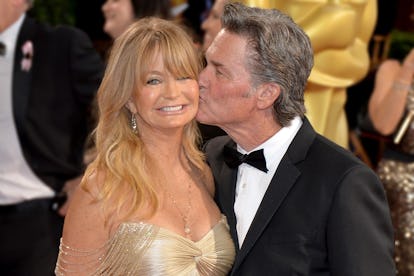 Michael Buckner/Getty Images
Goldie Hawn and Kurt Russell have one of the most lasting relationships in Hollywood, and they got here without ever bringing labels like husband and wife into the picture. The pair, who met on the set of Jonathan Demme's 1984 cult classic Swing Shift, have been together for more than 34 years. And although Russell was married once before and Hawn twice before, the duo have never officially said "I do" to each other.
So, if not the institution of marriage, what exactly is the unbeatable pair's secret to a long-lasting love? "Love, gratitude, compassion, because sometimes every man or every woman will drive their partner crazy. Family. Fun. Laughs. Sex," Hawn recently told People. "If you don't nurture that and remember, you're done."
She's clearly done a great job of nurturing her relationship: When she and Russell recently received side-by-side stars on the Hollywood Walk of Fame, Russell dedicated his success to Hawn with a glowing speech. Hawn told People, "It turned out to be a lovefest. The last thing he said was, 'I'll always cherish you.' I didn't expect him to say those things. I had no idea he was going to be so beautiful."
That beauty is evidence of a successful 34-year partnership, which Hawn said has also given her a very practical view of issues like monogamy and jealousy. "Monogamy is a very tough order. You're in the prime of your life, you are attracted to other people, potentially, you have fantasies about that," she said. "It really runs the risk, if you will, if you're not aware that you could maybe screw up a really good thing by doing that." She continued, "I'm sure I've been party to it, and Kurt's been—we're all normal this way. It's like, 'You really liked that guy, didn't you?' Or the woman says, 'You were looking at her.' My answer would be, 'Of course. Why not? She's beautiful.' Would you want a man who doesn't look? Who doesn't feel inspired by the beauty or the curves of a woman's body? Or the way she is? I mean, come on. We're human beings."
Hawn added, "There is, I guess, an elasticity to the relationship. Otherwise it's going to break, just like a rubber band."
The Snatched star also told People about what made her fall in love with Russell. "He was so good-looking, but he had no pretense about him. I could tell right away he wasn't a womanizer," she said. "What really got me was when I watched my kids [Kate and Oliver Hudson] when they'd come to the set and how he was with them. He was amazing with them. He was such a natural."
Hawn's children have both spoken about how they consider Russell to be their father. Hawn and Russell are also parents to Wyatt, who was born in 1987, and Boston, Russell's son from his previous marriage.
Related: Let Us Praise the Long-Awaited Return of Goldie Hawn
Dan Stevens Blushes at the Mention of Goldie Hawn: