Iranian Exile Actress Golshifteh Farahani May Lose a Role Thanks to Trump's Travel Ban
Golshifteh Farahani, an Iranian exile critical of her country's conservative government, is now speaking out against America's conservative government.
---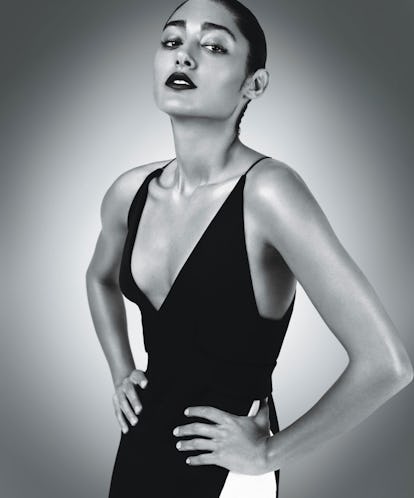 Four years ago, when W profiled Golshifteh Farahani as a rising star, she recounted her decision to permanently leave her home country of Iran. The actress had a role in Ridley Scott's Body of Lies, but her decision to attend the film's New York premiere without a veil, in tandem with some racier scenes and photographs she appeared in, stirred controversy in the more conservative segments of Iran. So she decided to decamp to Paris after pressure from government official, but her career has only continued to blossom.
Most recently the actress starred alongside Adam Driver in Jim Jarmusch's critically acclaimed Paterson. She's also filmed a part in the upcoming Pirates of the Caribbean: Dead Men Tell No Tales, her first role in a franchise blockbuster.
However, because of Donald Trump's executive order halting travel to America from citizens from seven Muslim-majority countries, including Iran, her career may be in trouble.
"For sure, it's affecting all of us, even me and I don't even carry an Iranian passport anymore," the actress tells The Hollywood Reporter.
"I'm supposed to go to the U.S. this Saturday for a movie, but I might not be able to go. The embassy is so busy. I've been trying to get an ESTA, but I can't even get onto the website. I think some crazy things are happening."
Farahani now carries a French passport. However, Iran forbids its citizens from renouncing their citizenships, so legally Farahani is still an Iranian citizen despite the fact that she currently lives in exile. Trump's order carved out no exception for such cases.
In fact, Farahani can't even go back to Iran, but is still affected by the order.
Farahani won't say which part she may lose out on, but she is aware that producers are already scrambling to find a replacement. Though, losing out on a part is not be the worst thing to come out of Trump's ban, Golshifteh Farahani's quagmire does put a celebrity face on the messy repercussion of Trump's hastily executed order. The actress added that Trump's plan is merely a ploy to create "an imaginary enemy" to divide people and wonders why Trump banned people from certain countries and not from others, like Saudi Arabia.
"I want to tell him that at this time in the world the only thing leaders should be doing is reuniting people instead of representing one nation or another as an enemy. It's not going to work," she told The Reporter.
Iranian director Asghar Farhadi is also affected by the man. The filmmaker is nominated for his second Oscar in the best foreign-language film category (he won his first in 2012), but will not be able to attend this year's ceremony as a result of the order.
Watch W's Most Popular Videos: