Sister Act
For the fabulous Goodman girls—Wendy, Tonne, and Stacy—impeccable taste is a family value.
---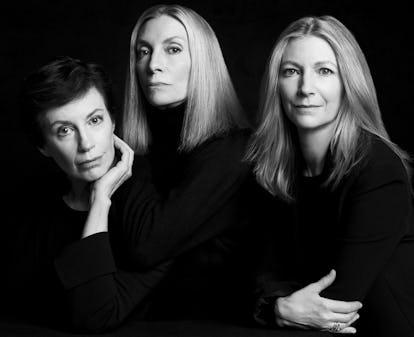 Photographer: Inez Van Lamsweerde and Vinoodh Matadin
Most famous sisters have staked their claim on the public's attention by doing one thing so well that it becomes the family business: writing novels (Brontë), singing three-part harmony (Andrews, Pointer), marrying up (Cushing, Miller). But the Goodman sisters have each risen to the top of a different field: Wendy, as New York magazine's design editor and the author of landmark books reprising the careers of Tony Duquette and Gloria Vanderbilt (a family friend); Tonne, as the fashion director of Vogue, a paragon of American chic, and heroine to street-style bloggers; and Stacy, as a leading authority on pre-Columbian art, now a senior consultant to Sotheby's. This is a triumvirate that spans a broad territory.
Their urban fairy-tale childhood unfolded in New York in a ground-floor prewar apartment at 1185 Park Avenue and in a beach house in Sands Point, on Long Island. Their mother, Marian, born in a small town in Ohio, had studied art in Manhattan, where she found work as a textile designer and sold her watercolors at the Far Gallery, on Madison Avenue. Their father, Edmund, a native New Yorker, was a surgeon at Columbia-Presbyterian hospital and a skilled watercolorist. At the end of the day, Marian would put on a floor-length red felt dirndl skirt, Edmund would change into a velvet smoking jacket, and the family would sit down to dinner. Some nights, they would entertain their friends: assorted theater people (Patricia Neal, Arthur Schwartz, Howard Dietz), authors (Robert Sherwood, Roald Dahl), songwriters (Lew Douglas), magazine editors (Leo Lerman). The children passed the hors d'oeuvres and mingled with the guests until bedtime.
As with most families, history differs in the telling. In Tonne's account, Wendy is the big sister she always looked up to (Wendy: "Are you serious?"), trying to fill her shoes both figuratively and literally: Being the oldest, Wendy was first to graduate from oxfords to loafers, which fit Tonne only after she put on 10 pairs of knee socks. But to Wendy's mind, Tonne was the wild child. The year is 1972, Tonne is 20 and Wendy 21, and they're on vacation together in St. Barths, where Tonne falls for a Dutch sailor they meet on a boat and she decides to stay, leaving Wendy to return home alone. (Their mother: "Where's your sister?" Wendy: "She's not with me.") Between Tonne and Stacy came Ed. "The odd man out," Tonne says. (Ed: "Definitely.") Anastasia, shortened to Stacy (whom Ed calls "the smartest of all of us"), arrived after the others were neatly settled into the apartment's three bedrooms (Wendy: "I was 6, and I thought, That is so nice of Mummy to give me my own baby") and found herself in one of two maid's rooms, at a slight remove that would come to characterize her relationship to her siblings—observing, learning from their occasional skirmishes with parental authority. The premises were shared with a menagerie that over the years included four dogs, two guinea pigs, innumerable gerbils, two parakeets, and an Amazon parrot.
Marian made sure the children got the full benefit of growing up in New York—taking them to the Museum of Modern Art and the Metropolitan Museum, the New York City Ballet, an Ike and Tina Turner concert, musicals and off-Broadway theater, including some productions (Hair, The Boys in the Band) other parents might have deemed unsuitable for kids. "These were things I wanted to go to, so I took them along," Marian says. "And they seemed to enjoy it."
Tiger mothers looking to raise girls who grow up to rule the world would do well to consider Marian Goodman's style of parenting. Though all of her daughters—and her son, now a general contractor living in Colorado and specializing in custom residential projects—have succeeded in careers requiring visual imagination and a discriminating eye, she did not teach them to draw or even encourage them to study any subject in particular. Stacy says what strikes her now as most remarkable about their childhood is the "mixture of discipline and freedom" that their mother cultivated. "The household was very organized, but there was also the chance to pursue your interests. Never this pressure of 'What are you going to become?'" On Friday afternoons, Marian took them to Central Park, set up her easel, and painted while the children scampered around her "like puppies," Stacy recalls. That Marian made time to do what she loved left a lasting impression. Though the girls credit their mother with experiences that formed the foundation for their own creative education, Marian insists there was no master plan. "I wanted them to find their own way," she says.
In hindsight, Tonne seems to have been destined for a life in fashion. In seventh grade, she already had a Vidal Sassoon haircut—and a mouthful of braces. Stacy remembers the black smudges on Tonne's pillowcase left by multiple layers of mascara, which she never took off. The summer Tonne was 15, she started modeling for Mademoiselle.
Tonne was almost 18, long-legged, wide-eyed—an American gamine. In a memo about her to the fashion staff, Vreeland wrote, "Though she is not pretty—she pulls together perfect bones and proportion in an aristocrative [sic] manner." Her modeling career took off. About a year later, she was in Paris, and after a shoot with the photographer Arthur Elgort, he said to her, "You don't like this—go home." "And I did," Tonne recalls. "He was right. I was shy. To be a model, you have to have a gregarious and open spirit, and I just wasn't prepared for it."
She ended up working for Vreeland, who was by then masterminding a series of "kaleidoscopic" (Tonne's adjective) exhibitions for the Metropolitan Museum's Costume Institute. Harold Koda, now the institute's director, recalls working with—"actually, for," he says—Tonne when she was Vreeland's lead assistant on "The Glory of Russian Costume" show, in 1976. They made an incongruous duo: the empress of fantasy conjuring the splendor of the czars, and the fledgling future stylist known for merging minimalist refinement and American sportswear. What they shared was a love of rigor.
"Tonne was almost exactly then as she is now!" Koda writes in an e-mail. She wore her hair in a ponytail, a shirt with the cuffs rolled, pants, ballet flats, a silver sports watch, and, around her wrist, a key dangling from a thin ribbon. "It was a uniform that said everything about her: sporty chic, confident informality." Through her tenures as fashion director at Harper's Bazaar and, for the past 16 years, Vogue; through more than 100 (and counting) celebrity cover shoots; through innumerable stories she has conceived, styled, and produced, her uniform has remained fundamentally unchanged.
Stacy's career progress has been no less direct. In Sands Point, on the estate of their next-door neighbors, W. Averell and Marie Harriman, there was an old abandoned house that the children would sneak into and explore; Stacy would come back with turn-of-the-century books and newspapers she'd found inside. In high school, she gravitated toward archaeology, spending a summer on a dig in Nevada, living in the desert and doing research supervised by a curator from the American Museum of Natural History. Back in New York, she worked after school in the museum's lab and, following college at Hobart and William Smith, volunteered for the same curator, going on six-month field stints in Nevada and on St. Catherines Island, Georgia.
One day, a woman she knew from an exercise class suggested that Stacy apply for a job at Sotheby's, where the director of pre-Columbian art needed an assistant. "And it was this warren of different departments—Chinese, Japanese, antiquities. Objects were coming in, and people were talking about them. I thought, This is like a museum in fast-forward. It was the perfect juncture of art and history and archaeology." She warned them that she had never studied pre-Columbian art; they took her anyway. She attended classes at New York University and Columbia University to get a better grasp of a specialty covering an area that is geographically enormous—from the Rio Grande, south through Mexico, Guatemala, Costa Rica into South America—and historically deep, from around 2,000 BC until the early 16th century. As time went on, experience grew into expertise, and in 1987 she was appointed head of the department. "She's one of the stalwarts of the field," says Julie Jones, curator emeritus at the Metropolitan Museum of Art. A curator in Stacy's position, Jones says, "needs to know what is a good object compared to one that's so-so"—a determination that cannot be made on the basis of physical properties alone. "You absolutely have to have taste."
As for Wendy, she took some detours. After studying acting at NYU under André Gregory, she grew weary of auditioning. "I wanted to work, to be productive," she says. "I didn't want to just sit around and wait." She interviewed at Harper's Bazaar, where Carrie Donovan, then the magazine's senior fashion editor, took one look at her résumé and asked what made her think she was qualified. Because, Wendy replied, "I think acting and fashion are the same thing." She was hired—as the assistant to a young Anna Wintour, now Tonne's boss at Vogue. "I was in awe of her," Wendy says. "Completely mesmerized by someone so focused on her purpose—the discipline, the unwavering confidence. I learned so much from her about what I wasn't."
A series of magazine stints (House & Garden, Travel + Leisure, Departures) followed, during which Wendy found her way into writing about design. But it wasn't until she was appointed New York magazine's ** design editor, in 1997, that she hit on an approach that would become her trademark. "It's not a shelter magazine, so I took what interested me most, which was to tell stories of the city through people's houses." Murray Moss, the proprietor of Moss, the SoHo store that for 17 years served as a shrine to great design, has witnessed Wendy's career progress since they studied theater together at NYU. He says that in her photo shoots, "the room can be as empty as in a Candida Höfer photo, but one always gets the impression that someone lives there and the occupant just stepped out for a moment."
When the Goodman girls turn their expert eyes on one another, it is with admiration and the occasional irresistible urge to dispense advice. Wendy describes Tonne's house: "It's perfect. She took down drywall, found molding, put in doors as high as the ceiling. Tonne is really disciplined in her modernity, so it's all black and white." It's a tight ship, everything labeled and sorted into Ziploc bags. Eggs are stamped with their expiration date before they're put in the refrigerator. (Stacy: "I don't know how you don't break the egg." Tonne: "It's a rubber stamp." Stacy: "God forbid you leave them in the carton, which is dated.") Wendy says that she and Tonne are "totally opposite" when it comes to organization. "My apartment is like a magpie's nest, full of things I've collected over the years, every one of them endowed with some personal meaning." As for Stacy's place, which she shares with her husband, Glyn Vincent, a journalist and a "recovering playwright," Wendy describes it as "cozy. It's a little bit la vie bohème."
Tonne says that she and Wendy took fashion cues from their mother: "I got the abbreviated chic, and she got the embellished chic. She got Mummy's sense of proportion and the touches, like the perfect pin. I don't really understand jewelry." And Stacy? "Stacy has the most beautiful figure," Tonne says. "However, she doesn't always dress as well as she could, I find." (Stacy: "Tonne will say, 'Let's have a look,' sizing up my wardrobe selection." Tonne: "Where'd you get those pants?" Stacy: "Zara. Okay?")
Scratch the surface of most childhoods, and behind the letters to Santa, the dodgeball games, and the fireflies in a jar, you find rivalrous siblings and reservoirs of blame. The Goodmans' start in life may not have been without friction, but it's the happiness they've shared that they continue to revisit. Marian, now 90 and losing her eyesight to macular degeneration, has stopped painting and is writing poems and autobiographical vignettes. In one of them, she records a Valentine's Day breakfast Tonne had made for her children: They'll "forget it tomorrow," she predicts, "and remember it the rest of their lives." Just as the world she made for her own children remains alive in their minds, hardship and loss have come in adulthood: death (their father), cancer (Tonne), divorce (Tonne and Wendy). In 2014, they dismantled and sold the house in Sands Point (Wendy: "It was like a part of my heart was taken out of my body"). On these and other occasions, the sisters rallied. "It's like a little team," Stacy says.
Team Goodman, as it turns out, has a talent for pragmatism. It's the basis of their style, now in its second generation. Tonne distills the elements of the everyday, Wendy finds meaning in them, Stacy perpetuates their value. Let others specialize in fantasy and aspiration. The Goodman girls' particular gift is their capacity to find elegance in the mundane.
Wendy, Tonne, and Stacy Goodman (from left), New York, 2015. Max Mara jacket, $1,650, Max Mara, New York, 212.879.6100; Hermès sweater, $1,175, hermes.com. Gap turtleneck, $60, similar styles at gap.com. Inhabit sweater, $370, inhabitny.com.

Photographer: Inez Van Lamsweerde and Vinoodh Matadin
The Goodman children, at home, New York, 1962. Courtesy of the Goodmans.
Stacy, at an archeological dig, Nevada, 1981. Courtesy of the division of Anthropology, American Museum of Natural History.
Vogue spread styled by Tonne, Amber Valletta, 2008.

Photographer: Steven Klein
Vogue spread styled by Tonne, Adele, 2012.
Vogue spread styled by Tonne, Patricia van der Vliet and Karlie Kloss, 2010. Photograph by Arthur Elgort.
Tony Duquette, cowritten by Wendy. Courtesy of Abrams Books.
The World of Gloria Vanderbilt, by Wendy Goodman. Courtesy of Abrams Books.
Stacy at the Sotheby's booth at the Santa Fe art fair, 1997. Courtesy of the Goodmans.
Marian's Jungle Gym watercolor, 1950s. Photograph by Marian Goodman.
Stacy at her desk at Sotheby's, New York, 1995. Courtesy of the Goodmans.
The four siblings, at Jones Beach, New York, 1969. Courtesy of the Goodmans.
Marian and Tonne, in New York, 1955. Courtesy of the Goodmans.
Marian, the kids, and a nanny, Sands Point, New York, 1958. Courtesy of the Goodmans.
Sittings editor: Felicia Garcia-Rivera; hair by Didier Malige at Art Partner; makeup by Dick Page for Shiseido at Jed Root; manicure by Deborah Lippmann at the Magnet Agency. production by the Collective Shift. Creative movement director: Stephen Galloway. Studio manager: Marc Kroop. Lighting director: Jodokus Driessen. Digital technician: Brian Anderson. Photography assistant: Joe Hume. Fashion assistant: Hanna Corrie. Hair assistant: Takashi Yusa. Makeup assistant: Gina Daddona.