Goop Magazine's Second Edition Is All About "Sex & Love"
Starring Gwyneth Paltrow and fiancé Brad Falchuk on the cover.
---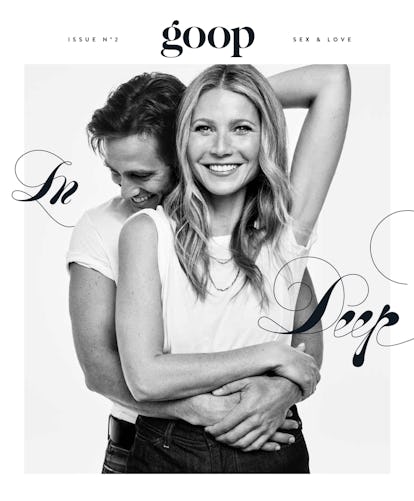 Goop
The new year is off to a great start for Gwyneth Paltrow and Brad Falchuk. Not only are they the cover stars of Goop magazine's second edition, but inside the new "Sex & Love"-themed issue, the actress and lifestyle mogul and the American Horror Story and Glee producer are finally confirming their long rumored engagement.
The second cover of the recently launched magazine shows a beaming, fresh-faced Paltrow, dressed down in a white tee and jeans, being embraced from behind by Falchuk in clean black and white. In another image from the cover shoot, captured by photographer Steven Pan, Falchuk holds Paltrow close and kisses her on the cheek while she grins at the camera and positions her hand just so to show off her engagement ring, which looks to be a simple band set with a huge circular gemstone. It's quite a debut for the jewel, which we assume remains hidden behind Paltrow's head on the cover.
Inside the second issue of her namesake magazine, Paltrow opens up about her "conscious uncoupling" from Chris Martin and impending second marriage to Falchuk. "Personally, at midlife, I have tried to accept how complex romantic love can be. I have decided to give it a go again, not only because I believe I have found the man I was meant to be with, but because I have accepted the soul-stretching, pattern-breaking opportunities that (terrifyingly) are made possible by intimacy," she writes about Falchuk. "For the first time, I feel like I'm in an adult relationship that is sometimes very uncomfortable—because he sort of demands a certain level of intimacy and communication that I haven't been held to before. What came up in the first couple of years of our relationship was how incapable I was in this realm—how I feared intimacy and communication."
Ahead of their official engagement announcement inside Vol. 2 of Goop—and several weeks after Entertainment Tonight reported that they've actually been engaged for over a year—Paltrow and Falchuk confirmed the big news to Good Morning America on Monday. "We feel incredibly lucky to have come together at this juncture in our lives when our collective successes and failures can serve as building blocks for a healthy and happy relationship," they said in a joint statement.
The magazine, which goes on sale this week, attacks its romantic theme from other angles as well. The issue's main story is a "deeply personal conversation" between Paltrow and relationship psychologist Esther Perel about finding love the second time around. Elsewhere in the mag, besides features on romantic getaways, couple's therapy, and "luxurious, toxin-free yoni products," Jean Godfrey-June writes about the "intense and often fleeting energy" of crushes, and Jancee Dunn pens an essay about "the sad reality of the orgasm gap." And in an accompanying online video, Falchuk will take Goop's signature "How Goopy Are You?" quiz.
Read all about Paltrow and Falchuk's relationship in the "Love & Sex" issue of Goop, available on newsstands and online on Tuesday, January 9 for $14.99.