Gwyneth Paltrow Crashes James Corden's Late Late Show Rant About Goop Magazine
And convinced him to try a vaginal steam.
---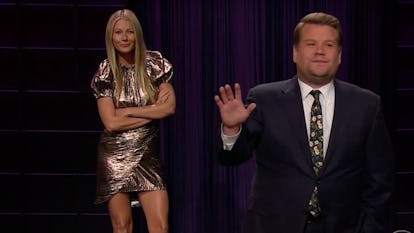 The Late Late Show with James Corden/YouTube
The name, those jade vagina eggs, the $15,000 gold sex toys. Gwyneth Paltrow's luxury wellness brand, goop, has been routinely mocked for an ostensible lack of chill ever since its inception. But late last night, the celebrity/life coach proved that not only is goop invincible, but that she is far more self-aware than people like to admit. And she did it as only Paltrow can: by crashing comedian James Corden's rant about her brand and then convincing him to do a vaginal steam in front of a live studio audience.
The 39-year-old British comic opened CBS' The Late Late Show with a bit about the inaugural issue of Paltrow's goop magazine, which launched last Friday in tandem with Condé Nast (the parent company of W). Certain details—from the self-deprecating Earth to Gwyneth title to the cover shoot of Paltrow literally dragging herself through the mud—should have indicated that it contained at least a soupçon of irony, but Corden took aim nonetheless: "For those of you who don't know, a magazine is where you print out the internet and then you trick people into buying it," the comedian (who, incidentally is on the cover of this magazine this month) said. "The cover features Gwyneth Paltrow lying down in mud. Look at that! Wow! I can't believe Gwyneth Paltrow beat out the competition to be on the cover of the new Gwyneth Paltrow magazine. She's covered in thick, brown liquid."
He continued by making an extremely subtle allusion to human excrement, Photoshopping the title to reflect as such.
Corden continued his litany of smack-downs as an amused Paltrow emerged from behind the curtain, inciting a round of cheers that the comic assumed were for him. When she finally had enough of his unfounded slander, she coughed very loudly (as one does), prompting Corden to squeak.
But the comedian stood his ground and maintained that "we were all thinking it," which Paltrow countered by asserting that "a lot of people" take goop's advice. Corden challenged her to name just one, to which she responded by naming three—who just happened to be members of Corden's crew. These goop aficionados then proceeded to sing the praises of Paltrow's lifestyle advice while disparaging his comedic abilities (one while shirtless and in the midst of Chinese cupping therapy).
Corden finally gave in and asked Paltrow whether she had any advice for a tiny issue he had in his nether regions.
She did: a vaginal steam.
Related: Inside Gwyneth Paltrow's Exclusive Goop Health Summit with Cameron Diaz, Miranda Kerr and Nicole Richie
James Corden Reveals the Secret to a Great Karaoke Performance:
Julia Roberts, Jennifer Lopez, and More Actresses Who Define Aging Gracefully
Singer, actress, and dancer Jennifer Lopez looked half her age at the 59th Grammy Awards, wearing her hair sleek straight and middle-parted with a lavender smoky eye and luminous skin.

Photo by Getty.
Natural beauty Halle Berry has tried every hairstyle in the book–from her signature pixie, to long, flowing waves–and they all work for her.

Photo by Getty.
As the face of anti-aging skincare brand SK-iii, it's no surprise that Cate Blanchett has flawless skin. Case in point: the actress' radiant complexion at the 88th Annual Academy Awards.

Photo by Getty.
Brunette beauty Sandra Bullock has been in the public eye for decades, and always loves an understated, glamorous look on the red carpet.

Photo by Getty.
South African beauty Charlize Theron stunned at the 89th Annual Academy Awards wearing her hair in an elegant up do with light golden smoky eye and a satin pink lip.

Photo by Getty.
Jennifer Aniston has a go-to look: golden hair, sun-kissed skin, eyeliner, and a glossy lip. And it works for her.

Photo by Getty.
Actress Gabrielle Union always wows on the red carpet, with her bright smile and glowing complexion.

Bennett Raglin/Getty Images
Actress Kate Winslet poses at the EE British Academy Film Awards wearing her hair in tousled curls with creamy, porcelain skin and a satin red lip.

Photo by Getty.
Always radiating with luminous, sun-kissed skin and golden waves, Kate Hudson attends the 2017 Vanity Fair Oscar Party.

Getty.
Actress Amy Adams made her cinematic debut in the '90s, and is still a red carpet favorite today.

Pascal Le Segretain/Getty Images
Reese Witherspoon always knows how to keep her look timely and fresh, as she proved here at the 2017 Vanity Fair Oscar Party.

Getty.
For Eva Mendes, her luscious brown waves and luminous, sun-kissed skin have always been a red carpet staple.

Getty.
Angelina Jolie may no longer try daring hairstyles like a buzzcut, but she has maintained her classic beauty flawlessly.

Photo by Getty.