What Becomes a Legend Most? An Afternoon with the Playful, Mischievous Grace Coddington
In a dishy tête-à-tête, the world's most famous redhead talks fragrances, working for Calvin Klein and Vogue, cats (duh), and why she hates scented candles.
---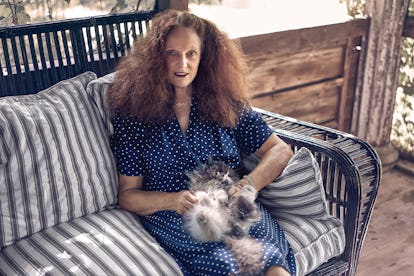 I bought a sweater to interview Grace Coddington. You should see my bed. Half of my closet was on it. It was three hours before our meeting and I was nervous. There really was no big reason to be. She wasn't interviewing me for a job. I was interviewing her about her new fragrance, Grace by Grace Coddington by Comme des Garçons. It's a topic I'm well versed in. Still, what to wear? I threw on my chic yet extremely comfortable Rachel Comey white Legion pants and a top from Topshop. But, how could I interview this icon in a Topshop top? Granted, it was a flowing, grey blue blouson that always garnered compliments, but she'd know it wasn't designer. She'd just know… So, I ran to Bergdorf Goodman and bought a cashmere sweater from The Row that costs about as much as my monthly mortgage. She did not comment on it. More importantly, I'm sure she didn't care. She's so down to earth. Besides, she was much more concerned that my bottle didn't come with its cute little cat-head cap. "You got one without a cap?" she asked me. "That makes me furious." Uh, oh.
You might not think it's Ok, but I told the publicist it was. I just wanted to smell the juice. I did get the pouch, though, with the cute cats on it! But the box looks very nice, and I love how the inside of the box is orange. Because everything I do is orange. Except my next book, which is going to be red.
Is that why you're wearing a red top today? Not really. It's just that the sun came out!
You could maybe use the frosted one for ancillaries, like a shower gel or body cream. Well, we're just trying to get this one out. But at some point, we might do something with Tiffany's, because Comme des Garcons has a thing with Tiffany's. Maybe the bottle in all silver, which is what I love. It's been great working with Comme in that there aren't loads of people, which is why, in the end, we went there.
When you say "We"…? I worked with Gabe Doppelt [the longtime journalist and editor]. When she stopped working at the Daily Beast, she came to me and said, 'Now's the time to capitalize on your name.' And I don't work full time for Vogue anymore but this has been two years in the making. For the first several months, we just went around to all the big places. Everyone was really enthusiastic, but they all said, 'I just have to speak to Mr. So and So.' As you know, once you work at a magazine, you want it [claps her hands together] now! One day, I suddenly had this flash of genius and said, 'I'm going to call [Comme des Garçons president] Adrian [Joffe].' And, by chance, he was here in New York. He said, 'Come over now.' So we rushed over, and he said, 'Done! [laughs]. We fell off our chairs! He called Rei [Kawakubo] in Japan and she was on board. And then he said, 'You're going to meet the nose.'
The nose is Christian Astuguevieille, the man behind Comme's very prolific perfume division. Did you have a juice ready when you met him? No. I'm not that clever. I've been looking for the perfect rose since forever. Even as a teenager when I first came to London that was I guess when I first thought about perfume. I went to Floris because I liked their sort of old fashioned-ness of perfume. There weren't any designer perfumes in those days. I loved everything about that store—the bottles, the wooden paneling. And what was great about their rose – I think was called Red Rose – it's just very gentle and soft.
But when you came to New York, you wore Calvin. I totally immersed myself in Calvin Klein. Before I came to work for him, I mean. It's sort of why I came to work for him. My best friend was Zach Carr who worked in the design room. And then he left Calvin to start on his own. But I always stayed really close to Calvin; helped bring him to England, connected him to Brown's where he started selling. I even worked on one of his campaigns way, way back. I had a special dispensation from British Vogue.
Which campaign? Well, I worked on two of them, actually. One was a jeans one with Patrick Demarchelier and Talisa Soto. And then I worked on another one with Bruce [Weber] and his fashion campaign, which was a huge failure, but they liked the Patrick ones very much. Then they did run some of the jeans ones by Bruce, which is a girl holding branches of a tree, sort of rugged. And then the beginnings of the women's underwear I shot.
I have to look up the tree one. But back to the fragrance, what attracted you to wearing Calvin? Was it because it was a Calvin scent? I think there was a lot of that…
You wouldn't be the first person to wear a fragrance because of the designer's name on the bottle. I mean, yeah. And he had makeup, too.
Which was great. Which was great. And his bags, everything was great, so I was completely Calvinized.
And then you wore [Chanel] No. 19… Perfumes react very strongly on my skin. The only one that doesn't is 19. And I think also, when I first came to American Vogue, everything was very Chanel at that moment. Everyone was wearing a Chanel jacket, bright colored. Not very me! But I was following in the footsteps of all the Voguettes. You could not work here unless you had a Chanel jacket, pretty much. And then I didn't wear anything at all for a while. Then I went back to rose, with Hermès [Ikebana Hermessence], which I loved. I love the Hermès perfumes, they're really interesting. Very clean. It's about being clean and not overwhelming.
Hermès scents are so well done. I'm very specific about the perfume that I wear. I might have mentioned three, but that's over 75 years, so it's not really a lot.
You'd said in a New York Times interview that there are too many fashion shows. Do you think there are too many fragrances out there? That's true, but people don't have to buy them. The same goes for fashion shows. You don't have to go to them. I mean, you and I do; if someone shows, we have to go. There's more pressure to go to a show than to buy a perfume that you don't want. It's just so crazy, the schedule of shows now.
I can tell you it's crazy with fragrance launches, too. There's like 600 a year. I'm sorry I just added to that! But I'm hoping people will like this, and hopefully it'll be a lasting one. When you ask if I'll bring out another one, I don't want to stab myself in the foot. But, for me, a smell is a smell. I don't really want a choice. So it's either that one or nothing.
What was the most difficult part of the process for you? Getting the cap right!
But what about getting the juice right? Oh, we went through many, but I loved that. It was a really fun process. And simultaneously we were working on the bottle and the box with Fabien Baron. He did everything for free, which was really wonderful.
Was it quite the education? Yes. Gabe set up the website, so it's been impossible to talk to her. I'll call her and she'll say, 'I'm just getting the cart up!' 'Can you draw the cart that's being pushed by the cat?' We've been doing all these videos for the site because the only way of advertising is on Instagram, so that's what we've been doing. [Shows the video below of a cat pushing a shopping cart, buying Coddington's perfume.]
The sound effects! She's so brilliant, Gabe. She found this student animator who did them all for us. We did a few cat ones, and then we did one without cats. When I started Instagram, the first one I posted was a drawing of me sitting in a deck chair naked and they took me down because they said it was lewd.
But it was a cartoon! It was a huge scandal! And 24 hours later, they put it up again and it won me so many followers! It was crazy. So now, well, first, I don't want to be taken down, but I'm kind of throwing it back in their face by putting these black slashes across my body.
You should do the slashes over the cats. That's what I did when they put me back up again.
Who's censoring the stuff over there? Prudish America.
More questions about the fragrance: Where do you usually wear fragrance? In my hair.
Anywhere else? No. Because it's light, you can put quite a lot on. I like it around my neck, but it was Christian who said to spray it in my hair.
That's where I apply it. Really? I'd never heard it before but it's nice because it kind of wafts. I love it in the hair and don't think many people know about it.
People say it's drying. Oh, come on. You're not washing your hair in it!
One of my peeves is people who wear way too much of it. That is my peeve! I think strong perfume is the worst. If you spray it in your hair, it doesn't react against you or whatever. If you spray it on your skin, it reacts. Hair probably doesn't change it. And then you never know what comes out when you spray on your skin. People do smell different.
What you eat also has to do with it. But hair…it is what it is. No, a strong smell of perfume is the worst. I remember working with Calvin on Eternity, and we were all in a studio sniffing everything. I kept going for the ones that were very gentle and slight. But he kept saying, 'No, no, no. I made that mistake the first time around,' which was, of course, the one that I liked. He said, 'If it doesn't last, people won't buy it.'
He seems to have been right about that… And air fresheners in taxis make me crazy [laughing]. I'm always trying to throw them out the window. People say, At our company, they always ask for an air freshener and I say, I can't think why! It smells really awful. Plus, it infers that you're covering up something.
Agreed. You know what I think is the tackiest? When you go to a dinner party and the candles on the dinner table are scented. [Ugh!] I can't stand candles!
You hate all scented candles? I do! And people are always giving me candles!
Is rose your favorite smell of all? Kind of, yes.
Any others? Oh, well, warm cookies, I like. [From the Milk Bar, to be exact, made by one of her assistants out of corn flakes, marshmallows, and chocolate chips.]
What is your least favorite smell? I'm sure I have one…but I can't think what it is. I think litter box.
You're used to it now! No, I'm not!
Maybe spray it with your fragrance? I think the combination might not work too well.
Last question, Grace: Do you like my sweater? It's from the Row. Just kidding. I didn't really ask her that.
Photos: What Becomes a Legend Most? An Afternoon with the Playful, Mischievous Grace Coddington
Grace Coddington by Craig McDean. Photo courtesy Dover Street Market.
Grace Coddington by Fabien Baron. Photo courtesy Dover Street Market.
Grace Coddington at Marc Jacobs Fall 2011 in New York, New York, February 2011. Photo by Getty Images.
Grace by Grace Coddington. Photo courtesty Baron + Baron.
Illustration by Grace Coddington.
Illustration by Grace Coddington.
This interview has been condensed and edited for clarity.