Easy Being Green
Is it possible to cut the chemicals from your beauty routine without cutting out all the fun? Amely Greeven finds out.
---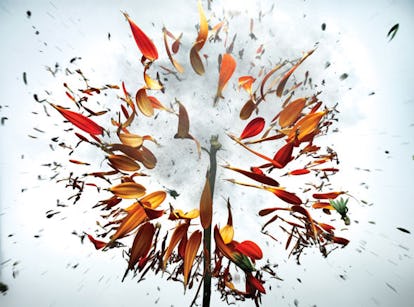 It's not hard to have a false sense of security when it comes to the purity of your beauty products. You buy a botanical skin serum, book an aromatherapy facial, and imagine yourself a green, clean goddess. But meanwhile, you've got a vise grip on your high-gloss nail lacquer, you cherish your long-wearing eye shadow, and the thought of renouncing your colorist gives you the chills.
This head-in-the-sand state is understandable: Start reading about the dangers of formaldehyde in Brazilian blowouts or the lead levels in red lipstick and denial quickly sets in. Still, it's time to acknowledge that we live in a complex terrain of chemical toxins. So why knowingly slather more of them onto your body? According to Amy Myers, an Austin, Texas, physician who specializes in functional medicine—an emerging field that focuses on inflammation and toxicity as the root causes of disease—"We have to reduce total exposure to the toxins that enter through our biggest organ: our skin."
But how does a beauty junkie accomplish that without going cold turkey? The answer is to bring some balance to the primping and polishing. Just as one can, in theory, offset the environmental impact of jetting off to the Maldives once a year by biking to work every day, a beauty addict can atone for her chemical dependencies by dialing down the bad stuff in the more mundane areas of her regimen.
Take perfume. Purists will tell you synthetic scents, with their potentially endocrine-damaging phthalates and host of other chemicals, pollute the skin. But they're spritzed onto a relatively small area. Better to obsess over a fluid we use by the gallon—HO. "Bathing in municipal water means steeping yourself in chlorine, which irritates arteries and disrupts intestinal flora," says Alejandro Junger, M.D., a detox specialist and author of Clean (which, full disclosure, I cowrote). You could, if you're Kate Moss, fill the tub with Evian, but for the rest of us, Junger suggests investing in a faucet filter or, better yet, a whole-house filtration system.
And while you're at it, be mindful about what you bring into the shower. "Greening your routine starts with cleaning up the things you use every day: the body washes and shampoos," says Tata Harper, whose botanical-skincare line is a favorite of Gwyneth Paltrow's and Julianne Moore's. Natural alternatives to those products—as well as to deodorant, mouthwash, and toothpaste—are now available at most grocery stores. Same goes for sunscreen. Shirley Pinkson, a cofounder of the green makeup brand W3LL People, suggests swapping chemical formulations—many of which contain oxybenzone, a controversial but widely used UV-reflecting compound—for broad-spectrum, mineral-based zinc oxide sunblock.
Still, finding the right products is easier said than done. In the unregulated world of cosmetics, greenwashing is rampant. The word "natural" is now a powerful marketing tool and, when stamped on a bottle, often doesn't mean much. One strategy is to buy products with the food-grade certification label USDA Organic. Steer clear of anything containing paraben, PEG, DMDM hydantoin, or sodium laureth ­sulfate. "They're some of the most common chemical ingredients that are showing immune-damaging, neurotoxic, and estrogen-mimicking effects," Myers says, adding that the word "fragrance" can be a euphemism for a blend of hazardous stuff. If reading the small print makes your eyes cross, outsource the task. Online ­emporiums like Spiritbeautylounge.com and ­Saffronrouge .com painstakingly vet all of their vendors so you don't have to.
None of this means that you can't hit the department store for this season's must-have nail color or straight-off-the-runway lip hue—even if it does contain synthetic dyes and adhesives. But use it along with natural cosmetics—which is not exactly a penance. Many of today's standout lines—Rose-Marie Swift's RMS Beauty and Kirsten Kjaer Weis's Kjaer Weis, for example—were founded by makeup artists and are quantum leaps beyond earlier iterations of "green" makeup, which had cakey textures and country-store colors. And because of the cost of all the raw materials that go into these products, prices, too, are a far cry from hippie-dippie. At $60, that all-natural foundation may even feel like a luxury.
Frederik Lieberath/Link Image; still lifes photographed by Tim Hout