Republican Greg Gianforte Sends Reporter to Hospital For Asking About Health Care Bill
Montana congressional candidate Greg Gianforte allegedly assaulted Guardian reporter Ben Jacobs—here's why it matters.
---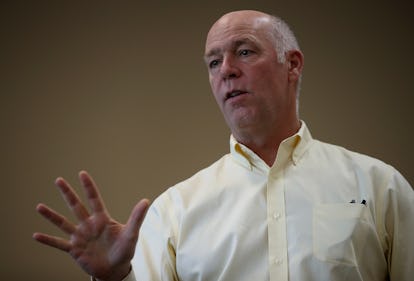 Justin Sullivan
With just 10 words, Ben Jacobs, a reporter for The Guardian, diverted the course of a tight election for a House seat in Montana that has national implications for Donald Trump's political machine and the Republican party.
After congressman Ryan Zinke accepted a post as secretary of the interior for the administration of President Trump, a special election was called to fill his now-vacant position. It pitted Republican Greg Gianforte, a multimillionaire software mogul-turned-politician who had previously tried—and failed—to earn Montana governorship, against Democrat Rob Quist, a folk singer-turned-politician.
On late Wednesday night, an altercation between Gianforte and Jacobs, just a day before polls open, might have turned the election on its head.
"Greg Gianforte just body slammed me and broke my glasses," Jacobs wrote on Twitter Wednesday, shortly after he had filed a story about the already-contested race. As he attempted to conduct an interview with Gianforte about the candidate's position on the revised Republican healthcare plan, which officials say will deprive some 23 million Americans of affordable health care, Gianforte was witnessed responding violently, shouting at Jacobs and pushing him to the ground.
Jacobs was sent to the hospital for an X-ray on his elbow, while Gianforte was charged with misdemeanor assault late Wednesday, according to the Gallatin County sheriff's office.
Gianforte's account was picked up immediately, spread across Twitter and reported thoroughly everywhere from the New York Times, who interviewed Gianforte from the Bozeman hospital ("Don't scoop me on this," Jacobs pleaded the Times) to Fox News. One member of a Fox television crew, who had been standing nearby as the alleged assault occurred, described Gianforte as "punching" Jacobs.
"Gianforte grabbed Jacobs by the neck with both hands and slammed him into the ground behind him," reporter Alicia Acuna wrote on the Fox News site. (The alleged assault, so egregious it has even brought The Guardian and Fox News into alliance.) Gianforte's camp issued a response shortly after the incident, explaining that Gianforte asked Jacobs to lower his voice recorder and was incensed when he refused. But Acuna's account contested this: "At no point did any of us who witnessed this assault see Jacobs show any form of physical aggression toward Gianforte," she wrote. Jacobs's own recording of the encounter backs this up—Gianforte can be heard declining Jacobs's questioning for less than 10 seconds before an audible crash and Gianforte screaming.
Several local Montana outlets, including the Billings Gazette and The Missoulian, promptly withdrew their endorsements of Gianforte—who has apparently earned the sobriquet "Gfart" among some locals—and replaced them with scathing criticism. "If what was heard on tape and described by eye-witnesses is accurate, the incident in Bozeman is nothing short of assault," the _Gazette'_s editorial page board wrote. "We wouldn't condone it if it happened on the street. We wouldn't condone it if it happened in a home or even a late-night bar fight. And we couldn't accept it from a man who is running to become Montana's lone Congressional representative."
A quick perusal of Gianforte's Wikipedia page offers some insight into the man and his platform: pro-life, pro-Trump, pro-Comey firing, a decision that was widely panned as a "grave abuse of power," as Jeffrey Toobin wrote in the New Yorker; anti-Planned Parenthood, anti-legalization, anti-gay marriage and anti-raising the minimum wage. He has hinted he does not believe in evolution, a scientifically proven fact. It's possible that he also disputes heliocentrism and thinks the world is flat.
The special election was already being read as something of a proxy match for the Trump presidency, and this latest development has only highlighted those parallels. Like Trump, Gianforte had minimal political experience before mounting his campaign—but hey, political office is just the latest vanity play for the independently wealthy these days.
According to memos leaked after the firing of FBI director James Comey, Trump had suggested the FBI consider imprisoning journalists who report on leaks, which have coming flooding in a torrent from his administration since the former reality television star took office.
While the Billings Gazette wrote that to mount a "passionate defense of the role of a free press during an election would be to miss the point"—instead opting to focus on the specifics of one man assaulting another—but, in fact, the assault can be read both ways.
It's impossible not to interpret the incident in the context of the wider media landscape, at a time when editorial integrity is being challenged by rallying cries of "fake news" and conservative blogs compete with outlets with a long history of dogged, rigorous reporting for airtime. The alleged assault, not the election, is the real referendum.
Meet the women who made history as the organizers of the Women's March on Washington: