Grimes Defends Babies' High-Brow Tendencies: "They Do Have Taste"
"They fully have opinions," the new mom asserted to the New York Times.
---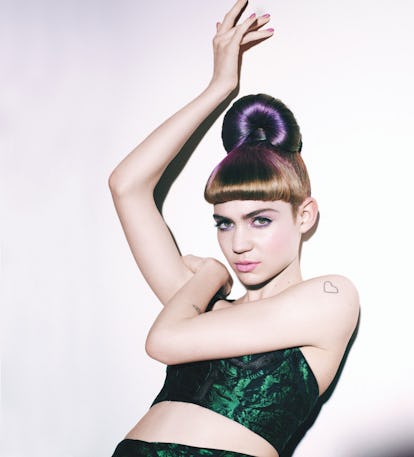 Photography by Theo Wenner. Styled by Patrick Mackie.
There's no family quite like that of Grimes (a Bernie supporter), Elon Musk (a billionaire), and the infant they named X Æ A-XII Musk. It may look like nonsense, but those jumbled characters actually mean something. Æ, for example, is Grimes's elven spelling of Ai, which can mean either "love" or "artificial intelligence." And thanks to her fascination with the latter, A.I. has already figured prominently in her five-month-old's life.
Grimes may be an acclaimed musician, but she's not one to croon "Rock-a-Bye Baby" or "Twinkle, Twinkle, Little Star." For a while, she put X to sleep with a white noise machine. But recently, she's turned to a "more artistic" option: playing "AI Lullaby," which she described as her "cuter," "sparklier," and "nicer" take on ambient music on Thursday in an interview with the New York Times. The soundtrack, which is now available on the app Endel, is a blend of AI-generated sounds that make X smile. (She weeded out all the ones that caused "general chaos" and tears.
To Grimes, the move was perfectly natural. It's simply what her baby—and all babies—deserves. Infants "do have taste," she explained to the Times. "They definitely like some things. They don't like other things. They fully have opinions."
And the current "stuff for babies" options just don't cut it—not for Grimes, and not for the babies either. "I just feel like getting out of the like, 'Here's a zebra and a bear in, like, pastel color tones' energy," she said. "That's just one very small sort of creative lens that things can be looked at through."
"In general," Grimes continued, "stuff for babies is really just creatively bad. I don't want your first introduction to the world to just be all this aimless crap." Instead, she's been treating X to high-brow content—"stuff" like the R-rated 1979 classic Apocalypse Now.
"He's into radical art," Grimes said of X. "Like, he just actually is, and I don't think it's problematic to engage with them on that level." Perhaps she should try out mother! next.
Related: Grimes Explains How She's A Bernie Supporter Who Dates a Billionaire