Grimes and Elon Musk Really Did Have a Baby, But They Might Be Trolling with The Name
Elon Musk announced the birth of his first child with Grimes via Twitter, and the name is, true to form, completely unexpected.
---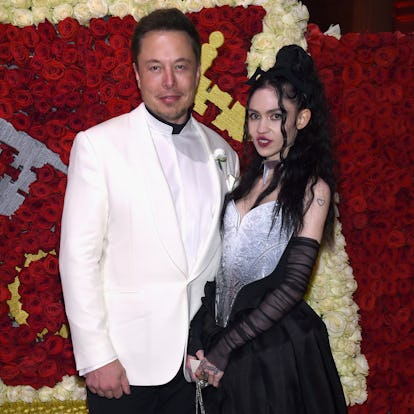 Dimitrios Kambouris/MG18/Getty Images
The highly anticipated baby from Grimes and Elon Musk has finally arrived.
Ever since they confirmed their relationship two years ago by appearing on the Met Gala red carpet, their intriguing romance has remained under plenty of scrutiny by fans and the press alike. And in a strange twist (although, at this point nothing is strange with them) the couple announced the birth of their first child together on the day that would have held the Met Gala this year.
Musk confirmed the birth of his baby boy on the evening of May 4, by responding to a tweet with "Mom & baby all good."
The name of the baby in question? X Æ A-12 Musk.
No one knows if this is the child's actual name, nor does anyone know how to even pronounce X Æ A-12 (if it's pronounceable at all). Not that it should come as a surprise that the baby has an unexpected name—Grimes herself, whose given name was Claire Boucher, recently changed her name to c in an effort to separate herself from her public persona.
It's also quite possible that the baby's father was just trolling on Twitter, as he has been wont to do in the past (and more recently, to a widely negative response from fellow celebrities).
But what can be confirmed in the very least is the mere existence of the child. Up until this point, though Grimes had debuted some pregnancy photos in recent months, some were not entirely convinced of the baby's existence, but now that the child has arrived into the world, there is no doubting the reality of the scenario.
Musk shared a couple of photos on Twitter in response to some requests from his followers to show off the baby.
While the baby's billionaire father has actively kept up with responding to requests for photos and information about X Æ A-12, Grimes has not made any official statement.
Related: Ariana Grande's Mom to Elon Musk: "You're a Disgrace"