Grimes Explained The Meaning Behind Her Baby's Name (Sort Of)
Grimes and Elon Musk squabbled over the meaning behind their child's name on Twitter, yet we still have no clue how to even pronounce it.
---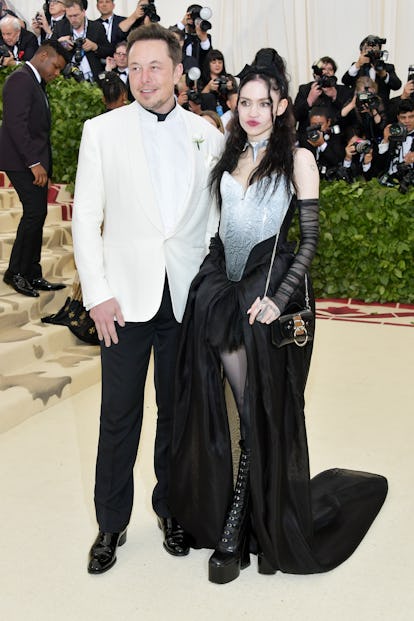 Neilson Barnard/Getty Images
It's been just over a day since the rest of the world became privy to the big news from Grimes and Elon Musk: their child, X Æ A-12 Musk was born on May 4.
While Musk revealed the baby's name on Twitter, it evoked a plethora of memes to be shared on social media, and the question of whether or not the child's paents were just trolling with an unpronounceable, difficult to understand name for their child, remained.
That is, until Grimes herself took to Twitter to address the name of her child, and explain where she got the name and why she chose it for her child. Each component of the name was outlined by Grimes, beginning with "X" which is representative of the unknown variable. "Æ," it turns out, is the musician's elven spelling of Ai, which she notes could mean both "love" and "Artificial Intelligence."
The tricky part, however, is "A-12," which Grimes says is a precursor to the SR-17, a "favorite aircraft" of hers and her boyfriend's. "No weapons, no defenses, just speed. Great in battle, but non-violent," she wrote. Part of "A-12" is also inspired by "Archangel," her favorite song.
But it turns out Grimes actually got one thing wrong when it came to explaining the meaning of her child's name. The correct aircraft is actually a SR-71, according to Musk, who corrected Grimes on Twitter.
"I am recovering from surgery and barely alive so may my typos b forgiven but, damnit. That was meant to be profound," Grimes replied to her boyfriend.
Still, regardless of all this back and forth about what the name means or doesn't, no one has any idea how to pronounce it anyway.
Related: Grimes and Elon Musk Really Did Have a Baby, But They Might Be Trolling with The Name