Funny People
A comedic crowd gathered to fete Zoe Saldana and Chris Pratt's new film.
---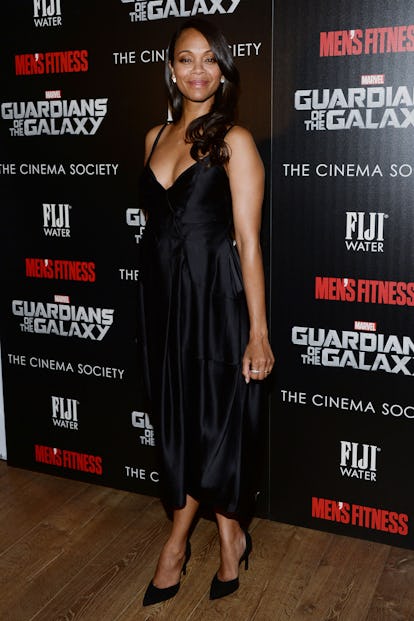 What: The Cinema Society and FIJI-hosted screening of Guardians of the Galaxy
Where: The Crosby Street Hotel in SoHo, followed by a Grey Goose-fueled party at the Jimmy at the James Hotel.
When: Tuesday, July 29th
Who: The film's stars Chris Pratt, Zoe Saldana, Vin Diesel, and Lee Pace joked around with one another before the film. "I thought, Oh really? That guy, the comedian—he's going to do this?" Saldana said of her co-star Pratt, before diplomatically noting he was perfect for the part. The lighthearted evening continued with a crew of comedic forces like Seth Meyers, Amy Poehler, Paul Rudd, Judy Greer, and Natasha Lyonne.
Why: The '70s and '80s-heavy soundtrack was a big hit with viewers of the funny film. Luckily, they got a chance to relive (and Shazam) as the songs played all night long at the poolside party.
Zoe Saldana. ©PatrickMcMullan.com
Chris Pratt. ©PatrickMcMullan.com
Aubrey Plaza, Amy Poehler, Natasha Lyonne, and Leslye Headland. ©PatrickMcMullan.com
Vin Diesel. ©PatrickMcMullan.com
Paul Rudd. ©PatrickMcMullan.com
Lee Pace. ©PatrickMcMullan.com
Alexi and Seth Meyers. ©PatrickMcMullan.com
Judy Greer. ©PatrickMcMullan.com