What Is Guava Island, Rihanna and Donald Glover's Mystery Film, Even About?
You may have to squint to find out.
---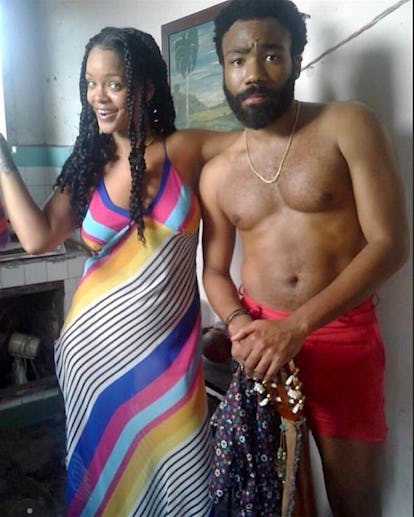 Courtesy of @childishnews
Months after a sudden flood of speculation, we now have an (admittedly thumbnail-size) idea of what exactly Rihanna and Donald Glover were up to in Havana over the summer: working, apparently, on an ultrasecret, mysterious project that's now known as Guava Island. Over the weekend, while performing at his second edition of Pharos festival in New Zealand—reportedly one of his final shows as Childish Gambino—Glover invited the audience to temporarily join him and Rihanna in Cuba by sharing a first glimpse at the project, in the same vein as the festival's first edition, where he screened the first three episodes of Atlanta.
Previously suspected to be a music video, some Atlanta-related content, or—at least for the true optimists among us—a segment of Rihanna's elusive, apparently imminent album, it now looks like Guava Island is something much more straightforward: a film. (Albeit "a Childish Gambino film," suggesting that Glover maybe isn't retiring the moniker after all.) There is, however, some music in there, too.The roughly two-minute clip begins with Glover's character singing and playing an acoustic guitar, before teasing Rihanna, who appears to play his girlfriend, and running through the city shirtless. You can see for yourself below, though be prepared to squint; phones reportedly weren't allowed inside the festival. (Not that that stopped at least one brave, faraway soul.)
In case you've given up, here's what happens from there: A voiceover asks Glover what's wrong with him, prompting him to respond with the most insight to date to the film's plot, "We live in paradise, but none of us actually have the time or the means to actually live here." (The pronouncement is a lot less bleak than it sounds when delivered over scenes of him picnicking, dancing, and generally being a cute couple with Rihanna.) Later, in between shots of a band playing in the city and a casket being carried through the street, Glover can also be seen performing onstage shirtless, facing threats like being mugged and apparently being kidnapped, and living the dream—aka hanging out with Rihanna on a beach.
Though there was no mention of the Guava Island title, the clip did confirm that the project involves Atlanta and "This Is America" music video director Hiro Murai, writer Ibra Ake, cinematographer Christian Sprenger, "This Is America" choreographer Sherrie Silver, and actors Nonso Anozie and Letitia Wright. It almost goes without saying, but no matter who else is involved, Rihanna is poised to be the real star. She's already the most visible character, anyway, in the trailer, thanks to her bright patterns, long braids, and variety of headscarves.
There's no word on when a standard-size trailer will be released, so in the meantime, you may want to get yourself a magnifying glass. Whereas Murai, Ake, and Silver all posted glimpses of Havana, including one with the rather cryptic caption like "time will tell," back in August, this time, everyone appears to be staying mum. Indeed, if it weren't for the trailer, Wright wouldn't have been confirmed to be involved. That's especially true for her: "I can't tell you anything," she recently told The Hollywood Reporter with a smile. "What is Guava Island? I have no clue. I don't know anything. I don't even know where they got my name from!"
Related: Rihanna's Top-Secret Album Has Been on Its Way for More Than a Year