Rihanna and Donald Glover's Secret Cuba Project May Be More Major Than Thought
Their mystery project, Guava Island, could be just about anything.
---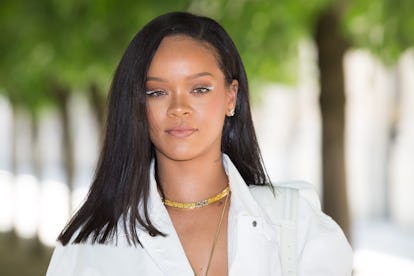 Stephane Cardinale – Corbis/Corbis via Getty Images
What do you get when you drop Rihanna, Donald Glover, Atlanta director Hiro Murai, writer Ibra Ake, and cinematographer Christian Sprenger, Letitia Wright, actor Nonso Anozie, and "This Is America" choreographer Sherrie Silver off in Cuba? Apparently, a mystery project entitled Guava Island that might be a music video. Or a film. Or something Atlanta-adjacent, given how much of Glover's brain trust is on the island. Or a visual album. (Rihanna is long overdue for an album release, and it's been rumored new music is coming this fall.) Or none of the above! Guava Island sounds like a great concept for a reality show. (Love Island meets Parts Unknown?) So we could go with that. But whatever it is, it's happening.
Let's back up. Last week, the Cuban news outlet Vistar reported Rihanna had quietly touched down in Havana, where a fan spotted her purchasing cigars. Then, earlier this week, Glover set off for Cuba, at which point Vistar reported they were working on a project together that would also star Wright and Anozie—and Fenty Stats, the intrepid chronicler of Rihanna's every move, also picked up on the news, tweeting out a photo of Rihanna and Glover "on set" (including a short clip of a church where Rihanna had reportedly been filming) and adding that the crew had been working for three weeks already. (Glover, as Childish Gambino, was also recently announced as the performer at the Clara Lionel Foundation's annual Diamond Ball.)
By the time the story had jumped past Twitter and local publications, IndieWire added that the Atlanta team had actually been working on an unknown project since June and had been on location throughout July and August. Much of Fenty Corp is there, too. "It's hard to imagine a scenario in which the two would need that much time to prepare a single music video," wrote IndieWire's Chris O'Falt. So the signs point towards something much bigger—but as for now, no one has quite been able to put together the clues. If it's a new Rihanna album, well, they're keeping it a whole lot closer to the vest than Anti, with its infamously botched rollout on Tidal. That, of course, did not prevent it from continuing to dominate charts a full year after its release.
In the interim, Rihanna has been busy: In addition to Guava Island, which may or may not have anything to do with her forthcoming ninth album, she's also been shooting documentary footage with director Peter Berg (whose most recent effort is the Mark Wahlberg-fronted Mile 22).
Murai, Ake, and Silver, meanwhile, have all been posting from Havana on their Instagrams, but one of Ake's cryptic captions sort of says it all: "Time will tell."