Gucci Model Sophia Friesen Swears by Coconut Oil and Activated Charcoal
20-year-old model Sophia Friesen, who stars in Gucci's fall 2016 campaign, shares her au natural beauty secrets.
---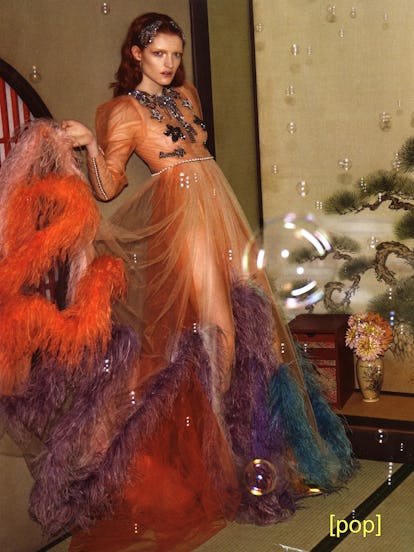 From coffee-brown nails to masks that smell like marzipan, model Sophia Friesen certainly has an original take on beauty. It's as refreshing as the fashions she wears in Gucci's fall 2016 campaign. The 20-year-old German fashion rookie spills her medicine cabinet essentials, love of matcha and more, here.
Your look in three words: Boyish. Comfy. Simple.
Medicine cabinet snapshot: I keep it simple and only use a washing lotion without perfumes, soap and a moisturizer every morning and night.
A good hair day starts with: I like my hair messy and always find it best to only use a comb. Sometimes I redefine some pieces with a styling iron.
All over miracles: Coconut oil and activated carbon. You can use it for your skin, hair and teeth – and both are completely natural!
Nails must be: Nude or coffee brown.
Sheet mask or mud mask: My favorite mask is from a German brand AOK. It's packed full of natural ingredients like almond flour and white tea. The best thing is that it smells like marzipan!
Bronze or blush: I never use bronze or blush; I like to keep my skin as natural as possible.
Gucci Model Sophia Friesen's Beaty Notes
Sophia Friesen in Gucci's fall 2016 campaign.

Courtesy of Gucci.
Sophia Friesen in Gucci's fall 2016 campaign.

Courtesy of Gucci.
Sophia Friesen in Gucci's fall 2016 campaign.

Courtesy of Gucci.
Beauty from the inside out: A lot of fruits and a lot of water.
Exercise obsession: I like to ride my bicycle as often as possible (instead of taking the Metro!). It's good for your body and the climate!
Drink of choice: Ever since I visited Japan I fell in love with matcha tea.
Product that you borrow from the boys: Shaver, because their razors are more sensitive to the skin.
Product that you picked up from the pros: Avène moisturizer – it's light and makes your skin feel lovely.
Appointment you'd love to nab: I just finished my training as a garment technologist and I really like pattern constructions so I'd love to work for a cool Paris or London designer instead of a beauty appointment!
Definite doppelgänger: Lots of people tell me they have seen my doppelgänger but it´s often just someone with the same hair color!
Anything else: I focus on using natural products! They're the best.