Gucci Is Entering the Decor Market
Alessandro Michele is finally turning his talents towards interiors.
---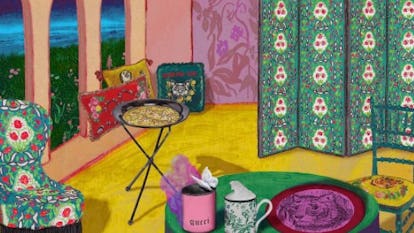 Gucci/Instagram
Alessandro Michele, creative director of Gucci, has undeniably turned the legacy brand on its head. These days, everyone is dying to get their hands on one of his maximalist designs, and now, you can also outfit your home in a Gucci creation. The brand announced Wednesday on Instagram a forthcoming line of Gucci Decor, including furniture and decorative pieces designed by Michele, to be launched in September.
The brand's popular motifs and patterns will be heavily displayed—doubling down on the Elton John-meets-Italian Renaissance aesthetic (think silk bomber jackets with embroidered bees or crystal-encrusted oversized eyewear) that has wooed the public. Gucci gave fans a sneak peek of the line with an illustration of the Chiavari chair, a Ligurian design crafted from wood with a lacquered red finish. The velvet upholstery is embroidered with a cat head and clusters of flowers. The high-fashion line also offered a preview of porcelain scented candles and incense burner, created in conjunction with Manifattura Richard Ginori, a Florentine company founded in 1735. Judging by the rest of the illustrations, done by Alex Merry Art, it seems additional pieces may include throw pillows, arm chairs, and folding screens. According to the Instagrams, the line will be available on Gucci.com as well as select Gucci stores and specialty stores, although there is no word yet on pricing (but we're guessing that won't matter to those clamoring for more Gucci).
Fans of the Italian fashion house should not be surprised at the latest development. For the Cruise 2017 show, held in the cloisters of Westminster Abbey, Michele designed velvet and needlepoint pillows that served both as cushions for guests and as a take-home gift. The brand has also invested heavily in the art world, as seen by collaborations with artist Trevor Andrew a.k.a the Gucci Ghost, as well as other projects.
Let the Gucci domination continue.
Related: Every Time Gucci's Alessandro Michele Talked About Life and Death
The Myth Of Orpheus and Eurydice, Part One: The Wedding:
From a Controversial Dapper Dan Reference to Pearl Eyebrows, See Every Detail from Gucci's Resort 2018 Show
A model walks the runway at the Gucci Resort 2018 show, which took place at Palazzo Pitti in Florence, Italy.

Photo by Getty Images
A model walks the runway at the Gucci Resort 2018 show, which took place at Palazzo Pitti in Florence, Italy.

Photo by Getty Images
A model walks the runway at the Gucci Resort 2018 show, which took place at Palazzo Pitti in Florence, Italy.

Photo by Getty Images
A model walks the runway at the Gucci Resort 2018 show, which took place at Palazzo Pitti in Florence, Italy.

Photo by Getty Images
A model walks the runway in a look inspired by Dapper Dan's original piece at the Gucci Resort 2018 show, which took place at Palazzo Pitti in Florence, Italy.

Photo by Getty Images
A model walks the runway at the Gucci Resort 2018 show, which took place at Palazzo Pitti in Florence, Italy.

Photo by Getty Images
A model walks the runway at the Gucci Resort 2018 show, which took place at Palazzo Pitti in Florence, Italy.

Photo by Getty Images
A model walks the runway at the Gucci Resort 2018 show, which took place at Palazzo Pitti in Florence, Italy.

Photo by Getty Images
A model walks the runway at the Gucci Resort 2018 show, which took place at Palazzo Pitti in Florence, Italy.

Photo by Getty Images
A model walks the runway at the Gucci Resort 2018 show, which took place at Palazzo Pitti in Florence, Italy.

Photo by Getty Images
A model walks the runway at the Gucci Resort 2018 show, which took place at Palazzo Pitti in Florence, Italy.

Photo by Getty Images
A model walks the runway at the Gucci Resort 2018 show, which took place at Palazzo Pitti in Florence, Italy.

Photo by Getty Images
A model walks the runway at the Gucci Resort 2018 show, which took place at Palazzo Pitti in Florence, Italy.

Photo by Getty Images
A model walks the runway at the Gucci Resort 2018 show, which took place at Palazzo Pitti in Florence, Italy.

Photo by Getty Images
A model walks the runway at the Gucci Resort 2018 show, which took place at Palazzo Pitti in Florence, Italy.

Photo by Getty Images
A model walks the runway at the Gucci Resort 2018 show, which took place at Palazzo Pitti in Florence, Italy.

Photo by Getty Images
A model walks the runway at the Gucci Resort 2018 show, which took place at Palazzo Pitti in Florence, Italy.

Photo by Getty Images
A model walks the runway at the Gucci Resort 2018 show, which took place at Palazzo Pitti in Florence, Italy.

Photo by Getty Images
A model walks the runway at the Gucci Resort 2018 show, which took place at Palazzo Pitti in Florence, Italy.

Photo by Getty Images
A model walks the runway at the Gucci Resort 2018 show, which took place at Palazzo Pitti in Florence, Italy.

Photo by Getty Images
A model walks the runway at the Gucci Resort 2018 show, which took place at Palazzo Pitti in Florence, Italy.

Photo by Getty Images
A model walks the runway at the Gucci Resort 2018 show, which took place at Palazzo Pitti in Florence, Italy.

Photo by Getty Images
A model walks the runway at the Gucci Resort 2018 show, which took place at Palazzo Pitti in Florence, Italy.

Photo by Getty Images
A model walks the runway at the Gucci Resort 2018 show, which took place at Palazzo Pitti in Florence, Italy.

Photo by Getty Images
A model walks the runway at the Gucci Resort 2018 show, which took place at Palazzo Pitti in Florence, Italy.

Photo by Getty Images