Gugu Mbatha-Raw Is the Belle of the Ball
The actress talks about her latest star turn, being mixed race, and her next cinematic adventure.
---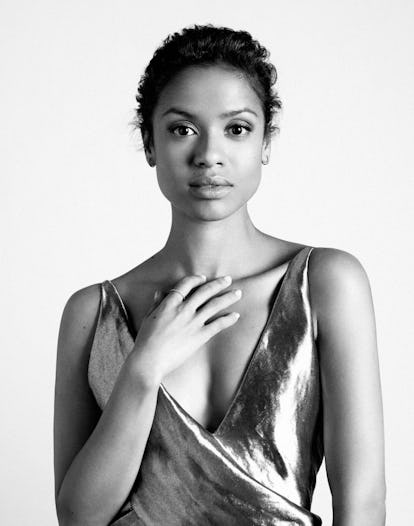 Photography by Peter Ash Lee Styled by Lindsey Frugier
Gugu Mbatha-Raw has the kind regal self-possession that makes you check your posture and wish you had invested in elocution classes. Riding in the back seat of a town car from a multi-hour press luncheon at La Grenouille to her downtown hotel, the British actress appears unflappable, her carefully considered answers delivered in the Queen's English (not a single gratuitous "like" over the course of 25 minutes). It's no surprise, then, that the 30-year-old actress flourished under the restrictive wardrobe and even stricter social codes that came with her role in the 18th-century historical film e, directed by Amma Asante and opening this Friday.
"I react to the nuances and constraints that are lost today. And I think it helps you be more scrupulous," explains Mbatha-Raw. "And then the moment you get to explode, it has that much more significance."
As Dido Elizabeth Belle, born to a slave mother and a wealthy British Admiral, Mbatha-Raw has plenty of opportunity to explore the full emotional register. Based on a true story, Belle follows its namesake protagonist as she grows up in the household of the 1st Earl of Mansfield (Tom Wilkinson), a famed barrister, against the backdrop of the anti-slavery movement in England. Raised alongside her white cousin, Elizabeth (Sarah Gadon), Belle is in the upper crust but not necessarily of it. When she comes into money upon her father's death, she must navigate a society that can't help but admire and abhor her.
For Mbatha-Raw, whose mother is an English nurse and father a South African doctor, it was a narrative to which she connected personally.
"There are no other films that I know of or stories in our culture that showcase a mixed-race woman in a lead. For me, it grounds you in a sense of history," she says. "I think it's exciting for the next generation of girls to grow up watching Belle as much as I grew up watching Colin Firth and Jennifer Ehle in Pride and Prejudice."
Mbatha-Raw was born in Oxford and grew up in West Oxforshire in a small market town called Whitney, which she affectionately refers to as "the shire." An only child she was thrown into dance classes and community theater (her first stage role was at 11 as Dorothy in The Wizard of Oz).
After graduating from the acclaimed Royal Academy of Dramatic Art school and the she appeared in a production of Romeo & Juliet opposite Andrew Garfield at the Royal Exchange in Manchester. In 2009, she starred as Ophelia opposite Jude Law in a Donmar Warehouse West End production of Hamlet, that later moved to Broadway.
Her next role is decidedly non-Shakespearian though there is plenty of drama involved: in the film Blackbird, she plays a modern day songstress who tries to commit suicide after winning a Grammy.
"What we explore is when this persona you create as a pop star becomes something you're not allowed to take off. Everyone wants you to be that all the time. Psychologically, what are the implications of that?" says Mbatha-Raw, who doesn't have an answer when it comes to her own rising star. "It's a certain shield and defense mechanism if it need be. I'm negotiating it now, so you'll have to ask me in six months' time."