Gwyneth Paltrow Comes to Terms With Apple Being a Full-Fledged Teen
In celebration of her daughter's 16th birthday, the actress posted three photos of her looking extremely grown.
---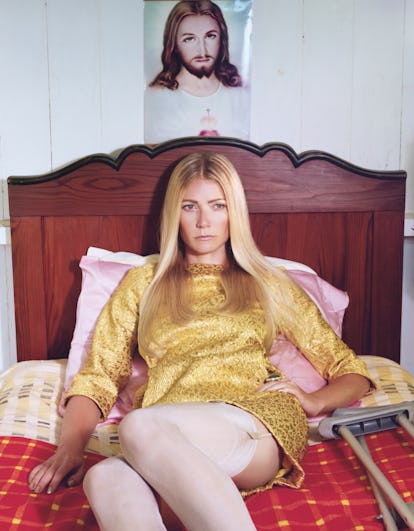 Steven Klein
At this point, you or someone you know has probably celebrated a birthday in quarantine. But even amidst a pandemic, one thing remains the same: the age-old tradition of posting birthday tributes on Instagram, which Gwyneth Paltrow upheld this week when her daughter, Apple Martin, turned 16.
On Thursday, Paltrow posted three photos of Martin posing on an extremely long couch, wearing a deep-V floral dress (and a bandage on her thumb). Less than 24 hours later, it has well over 500,000 likes. Emma Roberts, Selma Blair, Kate Hudson, Kate Bosworth, Cameron Diaz, Courtney Love, and January Jones were among the nearly 5,000 who jumped in the comments section with emojis and compliments like "So purty!!"
"I can't believe I'm actually writing these words but… happy sweet sixteen my darling girl," Paltrow began her lengthy caption, going on to praise her "wickedly intelligent" daughter's "most dry, most brilliant sense of humor." "I have the best time being your mom," she continued. "I am so damn lucky to be your mother."
Paltrow, who was once extremely private about her family life, has increasingly opened up as she and her children age. (Though when it comes to topics like her sex life, there's a good chance Martin wishes she wouldn't.) This time, the self-proclaimed "lame old white lady" even tagged Martin's Instagram account. (It's private, though you can see that she's only posted 21 times.)
Paltrow recently reflected on her own teenage years, when she lived on New York's Upper East Side and attended the famed all-girls school Spence. Back in the day, the actress was something of a rule-breaker: "What we figured out was that the more upscale places would let you in, but if you were trying to get into the Irish bar on Second Avenue, they wouldn't," she recalled of drinking underage. "We thought we were so sophisticated, talking about Dostoyevsky and cutting school to go to the Met. Margot Tenenbaum, but maybe with less eyeliner." Or maybe more like Serena van der Woodsen.
Related: Gwyneth Paltrow Gets Introspective: "I'm the Lame Old White Lady"