Gwyneth Paltrow Revisits Her Rule-Breaking Youth
Long before Goop, Gwyneth Paltrow was living out a life that sounds like it could've inspired a Serena van der Woodsen storyline in Gossip Girl.
---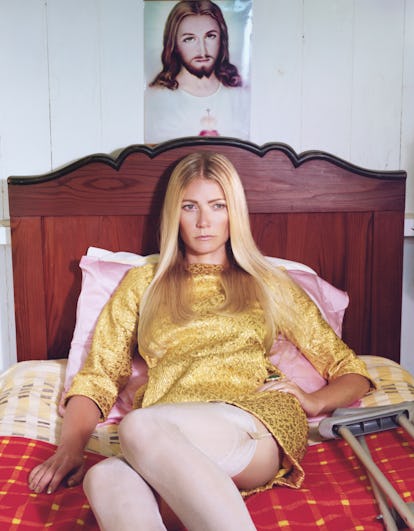 Steven Klein
Gwyneth Paltrow isn't exactly known for being a rule-follower. It's what led to the development of her lifestyle empire, Goop, and an acting career spanning three decades.
In Town & Country's May cover interview, the entrepreneur and self-proclaimed wellness guru recalled her teen years, which she lived out in New York's Upper East Side as a student at Spence, the famed all-girls school.
With an anecdote that sounded like it was taken straight out of Gossip Girl, Paltrow talked about how, as an underage teenager, she would sneak into clubs like Nell's and MK. But the downtown dives she may have wanted to frequent wouldn't let her or her friends into the establishment. "What we figured out was that the more upscale places would let you in, but if you were trying to get into the Irish bar on Second Avenue, they wouldn't," Paltrow told Town & Country.
"We thought we were so sophisticated, talking about Dostoyevsky and cutting school to go to the Met. Margot Tenenbaum, but maybe with less eyeliner," she went on.
Or maybe you could say she was a little bit more like Serena van der Woodsen.
In fact, real ones know that in the second Gossip Girl book, Serena van der Woodsen made a big deal out of going to a hotel bar to order a cosmopolitan (something pink to match her dress, of course) instead of just going to a regular bar so that she wouldn't get carded while underaged. The show's fictional Constance Billard School for Girls was also partially based on Spence, which provided a backdrop for exterior shots of several episodes.
So, in a way, you could say that Serena van der Woodsen got a lot of her sauce from a young Paltrow—whether the actress realizes that or not.
Related: Gwyneth Paltrow's Eyebrow Expert Kristie Streicher on Brow Etiquette