Haider Ackermann: Ladies' Man
Women are in love with designer Haider Ackermann's tough romanticism. Alice Rawsthorn finds out what it is that makes him love them back.
---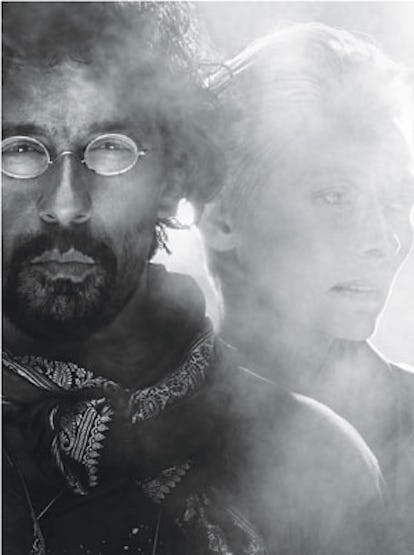 The greatest luxury anyone can have is ­friendship—or so Haider Ackermann's parents told him when he was growing up. "It was such a beautiful thing for them to say," he recalled recently. "When you travel the world like I do, you don't belong anywhere except with your family and friends. We all come from different fields, but my friends are always there for me—at my birthday parties, at my shows. And we are always happy to see each other and to be together again."
From left: Alexandra Sandberg, Savanna Widell, Harumi Klossowska de Rola, Dina Haïdar, Tilda Swinton, and Louise Neri.
When W invited the designer to talk about the things that inspire and intrigue him, friendship was at the top of his list, and he wanted to be photographed with some of those ­closest to him: all women, of varying ages, leading quite ­different lives—including his most famous client, Tilda Swinton, whose singular beauty has become synonymous with his sensuously modern style. Then there's the curator ­Louise Neri, a director at Gagosian Gallery in New York; the jewelry designer Harumi Klossowska de Rola; Dina ­Haïdar, co-owner of the artisanal Paris store Liwan; Savanna Widell, an agent at Management Artists in Paris; and the casting director Alexandra Sandberg, who works on Ackermann's shows.
The rest of Ackermann's inspirations are drawn from various episodes of a dazzlingly peripatetic life. Born in Bogotá, Colombia, Ackermann was adopted as a baby by a French couple who had already adopted a girl from Vietnam and a boy from South Korea. The family traveled to wherever ­Ackermann's father, a cartographer, was working, and lived in Algeria, Chad, Ethiopia, and Iran, then settled in the Netherlands when Haider was 12. At 25, Haider moved to Belgium to study fashion at the Royal Academy of Fine Arts in Antwerp, before scrimping together enough money to produce a collection and show it in Paris in 2002. Three years later, Ackermann secured the backing of a Belgian investor, Anne ­Chapelle, and opened an atelier in Paris.
All of the designer's inspirations share a subtext—be it a favorite place, film, color, performance, or fellow fashion designer. "I love anything that allows me to experience what the French call errance," he said. "There isn't really an equivalent word in English, but it's something like 'wandering' or 'losing ­yourself'—maybe by escaping to an unfamiliar place—or just dreaming."
I love to go to the Sahara—you feel like this very small person in the immensity of the desert. The light is amazing, and there is no horizon, which is very intriguing. During the day, it is too hot to move around; so you follow the moon at night, and it leads you across the landscape. You find yourself walking endlessly, not knowing where you will end up.

My first experience of the Sahara was when I was a child and a friend of my parents took me there on the back of a motorbike. It was so great to be out in the open air with this incredible sense of freedom. The last time I went was five years ago. We traveled in a jeep and then rode on camels, which was very uncomfortable. After two hours, you're like: Enough—where's the car? I would love to go back, though any endless landscape would do. ­Patagonia, Scotland—it's about losing yourself in nature.

Photographer: Patrick Demarchelier
In Madrid, I recently went to see Juan Manuel Fernández Montoya, the flamenco dancer known as Farruquito. He is considered one of the best flamenco dancers, but in 2003 he killed a pedestrian with his car and drove off without reporting the accident. He was arrested and sent to prison­—he served such a short sentence that all of Spain was incensed.

Before his performance, there was this incredible tension in the crowd. People had loved him so much, but they couldn't bring themselves to show their adoration for him because of what had happened. Then he started to dance—and he was so magnificent that they had to stop tormenting him. They were clapping, then screaming, shouting, and

Photographer: Patrick Demarchelier
I discovered her work when I was a student. She was not the most famous fashion designer, but she remains one of the best. Her work is so timeless and beautiful to look at and to touch: very simple, discreet, and elegant. Absolutely everything was done by hand—every pleat.

Coco Chanel once said, "Elegance is refusal," and Madame Grès was all about refusal. When you see someone in a dress by her, you don't look at the garment first; you look at the woman. I own one dress by Madame Grès, which I bought years ago from a friend, and I went to see her exhibition at Musée Bourdelle in Paris last year five times. It was incredible. If a girl wore any of those dresses to a ball today, she would look like one of the most modern women ever.

Photographer: Patrick Demarchelier
I feel very charmed to have met so many wonderful people because of my work, but my most memorable meeting was with the photographer, perfumer, and art director Serge ­Lutens (one of his 1995 Shiseido images is pictured). It was years ago, at his house in Marrakech. He came down the long path to greet me dressed entirely in black. It must have been 100 degrees, but he didn't have a drop of sweat.

Listening to him made me dream. His choice of words is so rich, and he has incredible stories of working with Dior and on the Shiseido campaigns—where everything was about beauty, grace, refinement, and elegance. Then he gave me the most amazing gift. I was going through troubled times then, and he could see it. He said, "Haider, do you have 10 minutes for me?" And for 45 minutes he read a book aloud to take me away from my worries.

Photographer: Patrick Demarchelier
To be a dancer was my biggest dream. When we lived in Africa, my mother took my sister to classical-ballet classes, and I would sit there with my best friend. One day the teacher said, "Stand up, boys, you're going to dance." I enjoyed it so much. When we left for the Netherlands, the teacher told my mother to make sure that I continued, but the school there was filled with girls in little tutus. I was the only boy, and I didn't speak the language, so I abandoned it—and I have always regretted it.

There is nothing more beautiful than dancing. I enjoy it even more now, because I feel much freer. At parties, you'll find me dancing on a table. When I'm alone at home, I love to turn the music up loud and dance. My neighbors must think I'm a total lunatic. It's my Colombian side.

Photographer: Patrick Demarchelier
When you prick the tip of your finger, the blood is this beautiful shade of dark red. The color does not last very long—as the blood dries, it goes brownish and looks horrible, but for a fraction of a second it's incredible. Discovering that you have cut your finger can be distressing and painful, of course—but looking at that magnificent shade of red is a beautiful distraction.

I long to work with fabric in that color, and I am always looking for it, but I've never found it. I have seen reds in Francis Bacon and Mark Rothko (at left is Untitled, 1968) paintings that are as intense as blood red, with the same violence and fear and with a kind of perversion. All those layers of red paint, one on top of the other, feel very sexual.

Photographer: Patrick Demarchelier
The first film I ever saw was Luchino Visconti's The Leopard. Growing up in Africa, we never went to the movies, but just before we left for the Netherlands, we went to see this film. Aaah—it was fantastic! Suddenly, a sense of beauty opened up for me. It was so far from the world we knew, where all the houses were quite empty—just cushions with low tables. On the screen there were crinolines, chandeliers, and wonderful dresses blowing in the wind. Such decadence.

I also like the nobility in Visconti's films—the way his characters do not need to speak, because you can see what they are thinking by the way they look. There is a discretion in his movies—the dignity of people living in a society where you could not allow yourself to do whatever you wanted. So different from today.

Photographer: Patrick Demarchelier
I always wear scarves (far left). Sometimes they can look absolutely elegant, and other times they offer protection. It started when I was very young, in Africa—we were always wrapped to protect ourselves from the sun. I remember in Ethiopia the women would walk by draped in fabric, disappearing ­between the dunes like Giacometti figures with their long necks. The gestures people make when draping themselves can be very beautiful too. In India, especially, men have such an elegant way of putting their scarves on.

I wore scarves when I was very young, and as I got older, people laughed at me for wearing them, but I didn't care. Playing with fabric is where my love of clothes came from: I love to layer, drape, and twist it. It gives me so much pleasure—it is part of my identity.

Photographer: Patrick Demarchelier
All wear clothes by Haider Ackermann from the current and previous collections. Hair by Syd Hayes for Redken at Premier Hair and Make Up; makeup by Kay Montano for Chanel at D+V Management; manicures by Anatole Rainey at Premier Hair and Make Up. Creative director: Jerry Stafford. Set design by Robbie Doig. Photography assistants: Myro Wulff, Hannah Burton, Yvan Fabing. Fashion assistants: Melissa Levy, Kerry Anne Buckley