Hailee Steinfeld, Now Legal, Reveals Her Crushes
The singer celebrates her 19th birthday with a performance at Z100's Jingle Ball.
---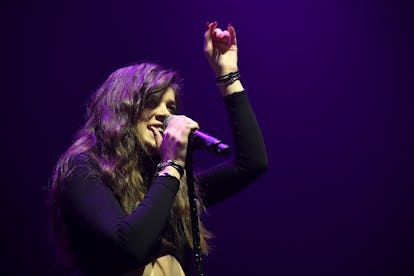 On Friday night, Pitch Perfect 2 actress Hailee Steinfeld joined Selena Gomez, The Weeknd, and Calvin Harris at Z100's Jingle Ball 2015. Before the show, the actress-turned-pop star opened up backstage.
Who's your style icon? I have many style icons. I've been working with Karla Welch since I was 13 years old and I have sent her endless references to various people from different eras. I take from different inspirations like Madonna, Rihanna—just kind of that London street-chic vibe. What's great is I feel now being a recording artist, I'm able to experiment with my look. I'm still finding it.
Now that you've branched out from being an actress to becoming a singer, do you feel you can express yourself in a new way? Absolutely! Absolutely! Making movies is one of my all time favorite things to do ever, but I'm working on one character at a time and luckily I've been able to play a variety of them. But with this role—myself—I'm able to experiment.
Today is your 19th birthday. What the biggest challenge you overcame this year? Wow. I'm 19 now, but everything I did this year I was 18, a legal adult. I experienced a few new things being legal. I think just growing up is tough. I experience daily struggles.
What's the best advice a close girlfriend has given you this year? Oh my God. I have so many great girlfriends that I can call no matter where I am in the world–and no matter where they are–and they pick up. It's normally for boy problems.
Who is your movie-star crush? I crush pretty easily. Like, a lot. My movie crush? Probably Patrick Swayze in Dirty Dancing, that's like all time. Or like Leo in Romeo and Juliet—C'mon that's like massive crush—or really, like any Johnny Depp movie.