Hailey Baldwin Will Make Her Acting Debut in Ocean's 8
Make sure you don't miss it.
---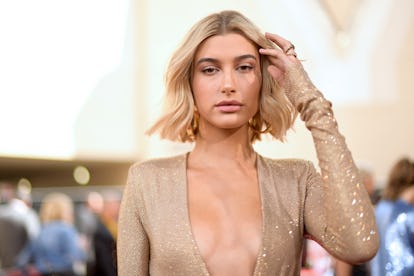 Matt Winkelmeyer/Getty Images
Ocean's 8 is arguably the most anticipated movie of the summer, undoubtedly due to the all-star female cast and Met Gala–themed heist. But one celeb whom fans didn't know would also make an appearance is Hailey Baldwin. The 21-year-old model told BFF Justine Skye at the 2018 Billboard Music Awards that she will make her acting debut on June 8 when the movie hits the big screen. Sandra Bullock, Rihanna, Mindy Kaling, Anne Hathaway, Cate Blanchett, Awkwafina, Sarah Paulson, and Helena Bonham Carter are just some of the strong women who will headline the film, but Hailey said that she—and a ton of other celebrities—will show up in a scene at the Met Gala.
The movie is a remake of the series and is led by Debbie Ocean (Bullock), who is the sister of Danny Ocean from the original Ocean's trilogy. Along with her partner-in-crime (Blanchett) and the rest of the group, she plans to pull off a robbery during the Met Gala, each hoping to walk away with a cool $16.5 million.
Besides spilling about her big-screen debut, Baldwin also hit the red carpet in a long-sleeve gold dress with a plunging neckline and matching gold high heels. She continued the color palette in her hair, returning to honey blonde locks after a brief stint with pink hair, which—to bring it full circle—she wore to the Met Gala at the beginning of May. She finished the look with simple neutral bronze makeup, featuring lots of gold highlighter and large gold hoop earrings.
Related: Shawn Mendes Has Denied (Again) That He and Hailey Baldwin Are Anything More Than "Friends"