Halle Berry Is Secretly the Ultimate Fitness Blogger
Halle Berry shares her best fitness and health tips
---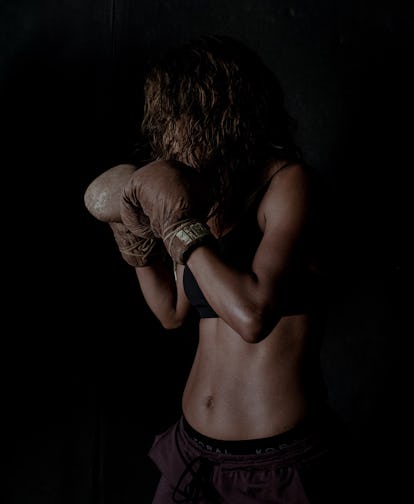 @halleberry
Since it's no secret that Halle Berry is one of Hollywood's most age-defying actresses, it should come as no surprise that the Oscar-winner is also a fitness aficionado. But what may be a bit of a revelation to fans is that she's turned her Instagram account into a inspirational fitness guide. She's basically the best celebrity fitness blogger in the game. She's offering her best nutritional and workout advice to her 2.6 million followers. Alongside trainer Peter Lee Thomas, the 51-year-old shares a thorough breakdown of her chiseled physique—and how you can achieve something like it too. Apparently that involves not only lots of stretching, yoga, boxing, and exercises to keep "ta ta's right," but some mental and spiritual adjustments as well. "I've learned that meditation helps to balance your left brain and right brain," she writes.
Here, a closer look into Berry's ultimate fitness tips.
"You decide today that you are worth it! Trust me, I know it's hard to focus up and dedicate time to working out each day, but with 24 hours in a day you can surely take ONE and dedicate it to YOU! You don't need a fancy gym to get started – all you need is a living room, a patio, a kitchen floor, a driveway or a backyard, and a water bottle."
"Many argue that some of the happiest people are those who spend time each day meditating. I can tell you that I've felt happier and more like my best self since I started. I've learned that meditation helps to balance your left brain and right brain, and as a result I feel more creative, I can absorb information faster and I experience better emotional health."
"When you want to quit because you can't do something easily or you see no real change, that is when real change is about to occur. This is the most important time to stick with it. I say this to you because I say it to myself every day. I encourage you to not give up and STICK WITH IT!"
"Many women I know often complain that gravity is taking hold of their breasts and they struggle to "keep 'em up". For me, working out my chest muscles have been key to keeping the ta ta's right."
"It's another one of my favorite yoga poses. Talk about getting a good full body stretch! I like to lay in this pose for as long as I can. The more you do it, the more relaxing it becomes. It took me a while to master this pose, as it looks a lot easier than it actually is."
"Initially when adapting to a fitness lifestyle, fear of discomfort usually sets in. The truth is, when you get fit, exercise is actually something you look forward to. It's a stress reliever (God knows I've needed that over the years), makes you feel relaxed, optimistic and those endorphins are just heavenly!"
"After I work out, it's important for me to stretch and lengthen. Fitness is not just about running, lifting and punching. For me, being athletic and super fit is also about being still, stretching and breathing. Including stretching in my fitness program helps my muscles stay long, limber, improves my mobility and range of motion and, most importantly, helps me avoid injuries."
Related: Halle Berry Is Officially "Done with Love"
An Exploration of Halle Berry's Ever-Changing Hairstyles and Age-Defying Beauty
Arriving at the Eighth Annual Soap Opera Digest Awards in 1992, Halle Berry wore her signature pixie cut with satin red lip.

Getty.
Attending the Sunset Blvd preview performance in 1993, Berry wore a smokey eye with a mauve lip.

Getty.
Wearing her shoulder length locks flipped out with tousled bangs, Berry attended the 16th Annual National CableACE Awards in 1995.

Getty.
21st Annual People's Choice Awards, Berry opts for a embellished hair clip with luminous skin and a mauve lip.

Getty.
Attending the Eighth Annual Fire & Ice Ball in 1997, Berry wore her tight curls with a lavender smokey eye.

Getty.
At the Fourth Annual Blockbuster Entertainment Awards in 1998, Berry opted for a playful, twisted up do with full lashes.

Getty.
Wearing her blonde pixie in sleek S-waves with a nude, glossy lip, the actress attended the Introducing Dorothy Dandridge New York premiere in 1998.

Getty.
At The 6th Annual Soul Train Lady of Soul Awards in 2000, Berry wore her blonde highlighted pixie in tousled pieces.

Getty.
Berry celebrates her Academy Award win for Monster's Ball in 2002, pairing her Elie Saab dress with her signature pixie, which is still one of the most iconic moments on the Oscars red carpet of all time.

Getty.
Wearing her long brunette locks in tight curls with a glossy, nude lip, Berry looked effortlessly glamorous at the Catwoman Los Angeles premiere in 2004.

Getty.
At the 2006 Cannes Film Festival, Berry wore her natural curls in a low, middle-parted pony with a soft brown smokey eye.

Getty.
At the 17th Carousel of Hope Ball, Halle Berry wore her long brown hair in a sleek straight style.

Getty.
Opting for side-swept curls and a pale pink, glossy lip, Berry was glamorous at Elle Magazine's 15th Annual Women in Hollywood Tribute in 2008.

Getty.
Wearing her tousled pixie with a hint of blush on the cheeks, Berry attended the 67th Annual Golden Globe Awards in 2010.

Getty.
Stunning at the Los Angeles premiere of Cloud Atlas in 2012, Berry wore a soft grey smokey eye with a hint of coral blush.

Getty.
Wearing her tousled pixie with highlighted locks and a golden taupe smokey eye, Berry arrives at the 2013 Oscars.

Getty.
Growing out her bangs at the 66th Annual Primetime Emmy Awards 2014, Berry wears her signature smokey eye with a nude lip.

Getty.
Halle Berry wore her highlighted, beachy waves with full bangs at the 2015 ESPYS Awards

Getty.
At the 2014 God's Love We Deliver Golden Heart Awards, Berry wore her hair in a dark brunette bob with a golden smokey eye.

Getty.
The Revlon ambassador styled her hair in a chic top knot with full bangs at the Revlon's Annual Philanthropic Luncheon in 2016.

Getty.
At the 89th Annual Academy Awards in 2017, Berry looked stunning with her highlighted locks in voluminous, wild curls with a mauve lip. It was one of the best looks of the night.

Getty.
Channeling a Grecian goddess at the 2017 Costume Institute Gala, Berry wore her hair in a tousled up do embellished with a golden headband and an exaggerated taupe smokey eye.

Getty.