Halle Berry Is Officially Launching a Health and Wellness Brand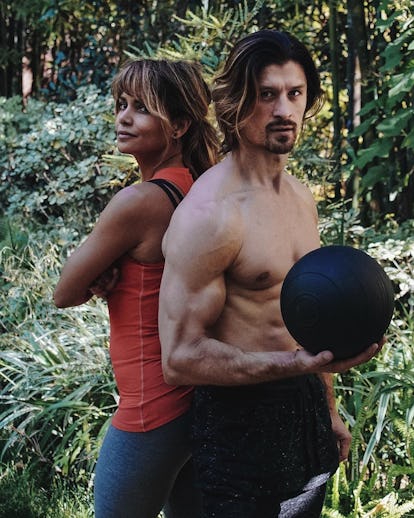 @halleberry
At 51 years old, Halle Berry has continued to defy aging. And after quietly turning her Instagram account into a personal health and fitness page in the beginning of January, it's no longer a secret how the actress maintains her incredibly toned physique. Staying true to her fitness goals of 2018, Berry has, along with her longtime trainer, Peter Lee Thomas, curated quite the inspirational wellness hub, filled with detailed boxing and yoga workouts, nutritional practices, guided meditations, and her best motivational tips for her 2.6 million followers. Now the Oscar-winning actress turned health and fitness guru is officially joining the celebrity wellness space with the launch of her new brand, Hallewood.
Taking to Instagram for her weekly #FitnessFriday post, Berry shared, "I believe good heath and wellness is what real beauty is all about. The beauty world is constantly evolving, building a deeper connection between health, wellness, and what we know as being beautiful. A holistic approach to beauty is key…. It's all about celebrating every dimension of health and wellness," continuing on to announce her partnership with Beautycon Festival's B-Well experience. Berry's new site will cover a variety of topics, from health and fitness to beauty and style, allowing fans to get an inside look at her holistic lifestyle.
In the ever-growing celebrity wellness space, Berry joins the likes of Gwyneth Paltrow, Cameron Diaz, and Reese Witherspoon. However, we doubt the actress, who says she is in the "best shape of my life," will have any problem making a name for herself.
An Exploration of Halle Berry's Ever-Changing Hairstyles and Age-Defying Beauty
Arriving at the Eighth Annual Soap Opera Digest Awards in 1992, Halle Berry wore her signature pixie cut with satin red lip.

Getty.
Attending the Sunset Blvd preview performance in 1993, Berry wore a smokey eye with a mauve lip.

Getty.
Wearing her shoulder length locks flipped out with tousled bangs, Berry attended the 16th Annual National CableACE Awards in 1995.

Getty.
21st Annual People's Choice Awards, Berry opts for a embellished hair clip with luminous skin and a mauve lip.

Getty.
Attending the Eighth Annual Fire & Ice Ball in 1997, Berry wore her tight curls with a lavender smokey eye.

Getty.
At the Fourth Annual Blockbuster Entertainment Awards in 1998, Berry opted for a playful, twisted up do with full lashes.

Getty.
Wearing her blonde pixie in sleek S-waves with a nude, glossy lip, the actress attended the Introducing Dorothy Dandridge New York premiere in 1998.

Getty.
At The 6th Annual Soul Train Lady of Soul Awards in 2000, Berry wore her blonde highlighted pixie in tousled pieces.

Getty.
Berry celebrates her Academy Award win for Monster's Ball in 2002, pairing her Elie Saab dress with her signature pixie, which is still one of the most iconic moments on the Oscars red carpet of all time.

Getty.
Wearing her long brunette locks in tight curls with a glossy, nude lip, Berry looked effortlessly glamorous at the Catwoman Los Angeles premiere in 2004.

Getty.
At the 2006 Cannes Film Festival, Berry wore her natural curls in a low, middle-parted pony with a soft brown smokey eye.

Getty.
At the 17th Carousel of Hope Ball, Halle Berry wore her long brown hair in a sleek straight style.

Getty.
Opting for side-swept curls and a pale pink, glossy lip, Berry was glamorous at Elle Magazine's 15th Annual Women in Hollywood Tribute in 2008.

Getty.
Wearing her tousled pixie with a hint of blush on the cheeks, Berry attended the 67th Annual Golden Globe Awards in 2010.

Getty.
Stunning at the Los Angeles premiere of Cloud Atlas in 2012, Berry wore a soft grey smokey eye with a hint of coral blush.

Getty.
Wearing her tousled pixie with highlighted locks and a golden taupe smokey eye, Berry arrives at the 2013 Oscars.

Getty.
Growing out her bangs at the 66th Annual Primetime Emmy Awards 2014, Berry wears her signature smokey eye with a nude lip.

Getty.
Halle Berry wore her highlighted, beachy waves with full bangs at the 2015 ESPYS Awards

Getty.
At the 2014 God's Love We Deliver Golden Heart Awards, Berry wore her hair in a dark brunette bob with a golden smokey eye.

Getty.
The Revlon ambassador styled her hair in a chic top knot with full bangs at the Revlon's Annual Philanthropic Luncheon in 2016.

Getty.
At the 89th Annual Academy Awards in 2017, Berry looked stunning with her highlighted locks in voluminous, wild curls with a mauve lip. It was one of the best looks of the night.

Getty.
Channeling a Grecian goddess at the 2017 Costume Institute Gala, Berry wore her hair in a tousled up do embellished with a golden headband and an exaggerated taupe smokey eye.

Getty.