Halloween 2018 Couples Costumes You'll Actually Want to Wear
Might seem obvious—but that doesn't mean they're a bad idea.
---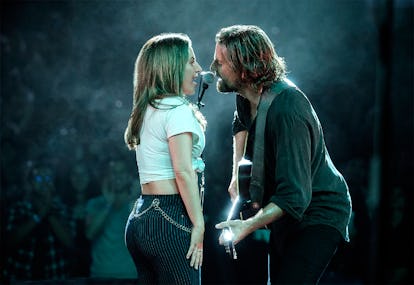 Photograph by Clay Enos.
Have you heard? Halloween is right around the corner. And surely you'll have a party to attend that requires you to show up in costume, whether that's your thing or not. And most likely—unless you really have a way with makeup and you can make yourself into an actually inspired zombie or witch—your mind will naturally wander to the news cycle for a costume idea that feels timely and, preferably, somewhat humorous. The same rules apply to anyone daring to show up to the party with a partner. So here are the real-life celebrity couples who are just asking to be turned into a Halloween twosome in 2018.
The Carters
Get some complementary suits, slap a printout of The Mona Lisa behind you, pretend you're immersed in the art of the Louvre, and voilà—you have your look as Beyoncé and Jay Z as seen in the "APESHIT" video. Instantly iconic.
Ariana Grande and Pete Davidson
While fans mourn the end of this year's most intense whirlwind relationship, that doesn't mean it wasn't real while it happened. Ariana Grande and Pete Davidson's relationship was such a moment this year, and this widely circulated photograph of Grande licking a lollipop while gazing up at Davidson's hoodie-covered face is a meme no one will ever forget, which makes it (still) an unavoidable Halloween couples costume. If you plan to dress up as Grande, all you really need is a yellow hoodie, a lollipop, and a brooding partner who is about a foot taller than you to hold your hand.
Lara Jean Covey and Peter Kavinsky
Lara Jean Covey and Peter Kavinsky are fictional characters from To All the Boys I've Loved Before, yes, but Lana Condor and Noah Centineo are truly couples goals this Halloween. If you're dressing up as Peter Kavinsky, you'll need some folded paper with cute little notes scrawled all over it, the ability to say "whoa, whoa, whoa" at the beginning of every sentence, and a handsome smile. Lara Jean needs a sweater, a shirt buttoned all the way to the top underneath, and little black boots.
Jackson Maine and Ally
A Star Is Born is such a hit that there is no way we could get to the end of 2018 without at least one couple dressing up as the lead characters, Jackson Maine and Ally. For Jackson, you could carry around a guitar and maybe a bottle of whiskey. For Ally, cover up your fighting hand with a bag of frozen peas and scream-sing "AAAHHH!" all night long.
Prince Harry and Meghan Markle
The biggest royal wedding of the year obviously lends itself to a good couple's costume for Halloween. For Prince Harry, you'll need some ginger hair and a beard. For Meghan Markle, maybe a messy bun? Whichever royal look you decide to pull off, just make sure it is somehow "breaking tradition" so that you don't get confused with Will and Kate.
Busy Philipps and Michelle Williams
Just grab your best friend and dress up like you are headed to an awards ceremony (Oscars, Golden Globes, Independent Spirit Awards—take your pick), and if anyone asks, you can just say you're famous dynamic duo Busy Philipps and Michelle Williams. See? Couples costumes don't have to be based on actual romantic couples. Bonus points if one of you dyes your hair pink.
Related: How to Wear Orange This Fall, According to Naomi Campbell and Lara Stone