This Week's Model: Hanaa Ben Abdesslem
Tunisia has birthed influential couturier Azzedine Alaia, 1980s model superstar (and Jean Paul Gaultier muse) Farida Khelfa, and now 20-year-old Hanaa Ben Abdesslem (above). In the short time she's been on the modeling scene, Ben...
---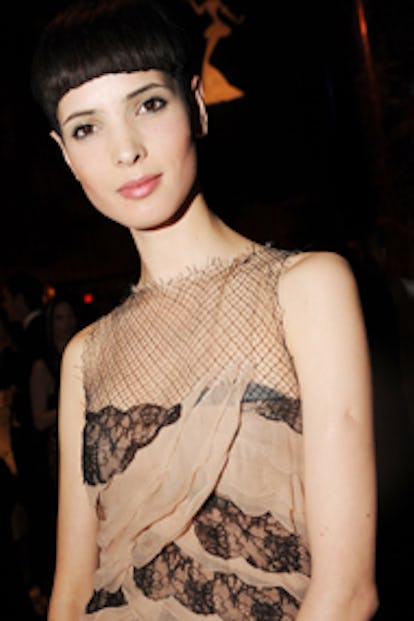 Where are you right now? In Paris, in the hotel.
Which couture shows are you most looking forward to? Jean Paul Gaultier, Giambattista Valli, Chanel … so many good shows … Alaia. I love all the designers.
Any other plans for summer? I'm going back home to Tunisia.
Tell us about your cropped haircut. Before, I had long hair, but when I looked in the mirror, I didn't feel that it reflected myself. I have a small face, so I feel good like this.
 [#image: /photos/5853b3abd3b7a5db18f3c440]||||||From left: Anna Sui Fall 2011; Ralph Lauren Fall 2011
Riccardo Tisci asked you to cut it for your Spring 2011 Givenchy show exclusive? I had cut my hair shorter, but for Givenchy he made it specific — a square look in front. I hope I work with him again.
Would you cut your hair for Riccardo again if he asked you to? Yes!
Any guilty pleasures? Too much couscous.
What has been your craziest experience while working in fashion? Once, when I was on the train from London to Paris for a Lancôme job, my mobile [phone] was stolen. It had all the phone numbers and information for the job on it, so I didn't know where I was going or how to get there. Luckily my agency helped me out.
What do you do during your free time? Watch movies, read magazines, and sketch.
Do any other models inspire you? My mentor, Farida Khelfa, looks after me and gives me advice.
What's the best advice she's given you? To be myself — to always be myself and to focus on my work.
What would you like to accomplish this year? To have a good fashion season in New York, London, Milan, and Paris. I want to work with all designers.
What about longterm? I want to go back to my home, to do something in fashion in Tunisia. I always want to encourage designers and models in my country so they can also work abroad.
Photos: Fairchild Archive