Hannah Davis on Fashion's Guilty Pleasure: "Project Runway: Junior"
Before the show's finale, the model and Derek Jeter fiancée answers some pressing questions.
---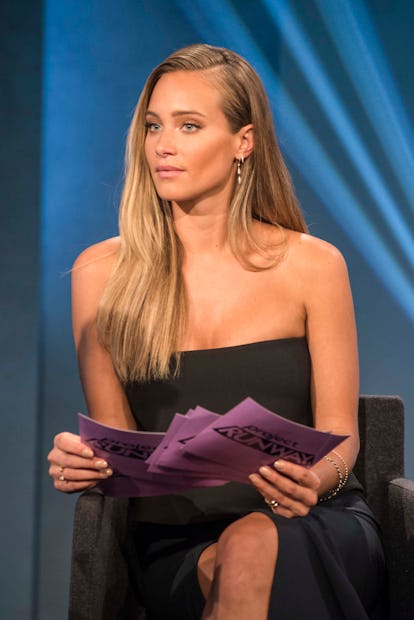 In certain circles, Project Runway: Junior – yes, the pint-size version of the regular Project Runway – is something of a cult obsession. There's something adorable about a contest show where the competitors are all shamelessly guileless. Picking up hosting duties from Heidi Klum is Hannah Davis; Tim Gunn still plays an avuncular mentor. Davis, a Sports Illustrated model and baseball lover – well, she's engaged to Yankee Derek Jeter – is just a lip balm and moisturizer kind of gal when she's off camera. She took a few minutes before the show airs its finale on Lifetime to talk beauty best practices.
What's your first beauty memory? My mom doing my makeup for my dance recital when I was very young. I think she only gave me blush, really, but I loved it!
What was your worst beauty blunder? I dyed my hair black my senior year of high school. Let's just say that color didn't work for me!
What beauty products are currently in your purse? Lip gloss from Buxom if I'm going out. Otherwise, Soft Lips lip balm and a day-time moisturizer from SK-II.
What's your 5-minute morning beauty routine? I hate to wear makeup, only because I need a break. So I just try to take really good care of my skin. I use all of the products from SK-II to keep my skin nice and moisturized. Then I use tons of Moroccan oil in my hair because I usually leave the house with wet hair.
If you had an extra 10-15 minutes in your routine, how would you spend it? I would probably iron my shirt! Ha!
What's your beauty hack? I use coconut oil as a hair mask at night. I do color my hair so often, so sometimes it can get really dry. This helps a lot.
Which beauty trend do you just not get? The crazy contour look. It can totally change your face!
Which discontinued product or shade do you mourn? The orange Kerastase foam. It was a miracle. It kept my hair textured without frizz!
Is there a beauty professional you can't live without? Lauren Andersen. She is my makeup artist and magician.
What's your beauty peeve? Over-done makeup. I need to see my skin. I don't like when it's too heavy or there is a lot of eye shadow.
What are you currently obsessed with? The Netflix documentary series "Making a Murderer." It is blowing my mind.