Muller Van Severan's Designer Life
The Belgian duo collaborates on an unexpected furniture line.
---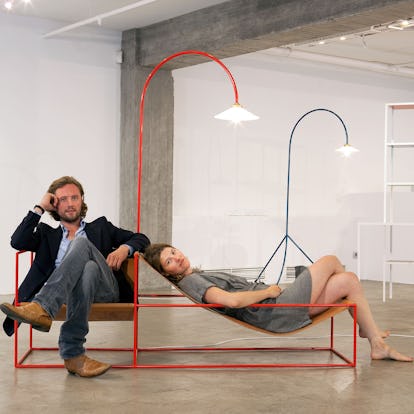 Hard as it is to believe, Hannes Van Severen swears he stumbled into furniture design accidentally. The son of the legendary Belgian designer Maarten Van Severen, Hannes, 35, was working as a sculptor when, in 2011, he and his wife, the photographer Fien Muller, 36, were invited to collaborate for an exhibition at a gallery in Antwerp. The thin, minimalist sling chairs and Bauhausian color-block shelves they created were an instant and unexpected hit, and they've been making them ever since. "We don't even have time for our art anymore," Van Severen says with a laugh. "Although we don't really feel like designers either—for us, it's the same way of working, whether we're making sculptures or furniture." He and Muller design by instinct and experimentation; lately, they have been updating the visual language of their collection with materials and finishes they come across in galleries, at flea markets, or in hardware stores. "That's usually an accident too," Van Severen says.