Sesame Street Is Not Too Pleased With Melissa McCarthy's R-Rated Muppet Movie
Sesame Workshop is suing the production team for The Happytime Murders, claiming it "diluted and defiled" the children's show brand.
---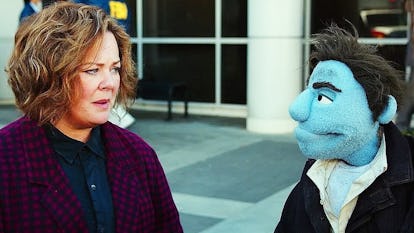 STX Entertainment
With the likes of Jim Henson's son Brian Henson in the director's chair and his daughter Lisa Henson as executive producer, one might think Melissa McCarthy's upcoming film The Happytime Murders would be pretty much in the clear when it comes to Sesame Street. But on Saturday, reports emerged that the team behind the long-running, Muppet-starring children's show is suing the producers of The Happytime Murders because, the lawsuit contends, the R-rated movie could cause "irreparable damage" to the Sesame Street brand.
The Happytime Murders features McCarthy as a detective (her partner is a Muppet) tracking down a prolific killer who has been executing puppets. "After 35 years of children's entertainment, the director of Muppets Christmas Carol, Muppets Treasure Island, Muppets Tonight is finally ready to reveal what goes down when kids aren't around," the trailer's title cards read, triumphant trumpets trilling in the background. It all breaks down from there: Muppets swearing, making fellatio jokes, and getting into gun fights. The tagline? "No Sesame. All street." No Sesame, indeed—Sesame Street, it appears, is resisting any affiliation with the film, declaring it to have "diluted and defiled" the brand name, despite the participation of Henson's family. (Disney purchased rights to the series in 2004; Henson died in 1990.)
"STX loved the idea of working closely with Brian Henson and the Jim Henson Company to tell the untold story of the active lives of Henson puppets when they're not performing in front of children," said a statement issued by the production company's legal team—published under the byline of a puppet member of the team, Fred, Esq., a lawyer featured in The Happytime Murders. "While we're disappointed that Sesame Street does not share in the fun, we are confident in our legal position." (It would appear, yes, they are quite confident, if willing to allow puppets to take the floor in legal proceedings.) The film is slated for a mid-August release, while Sesame Workshop has requested that promotions for the film be pulled post haste. One can only hope Big Bird will be on the bench to face off against Fred in the case of a potential jury trial.
Related: Melissa McCarthy Is Aiming for the Oscars With Can You Ever Forgive Me? Trailer