Melissa McCarthy Is Aiming for the Oscars With Can You Ever Forgive Me? Trailer
'Can You Ever Forgive Me?' already has awards-season buzz.
---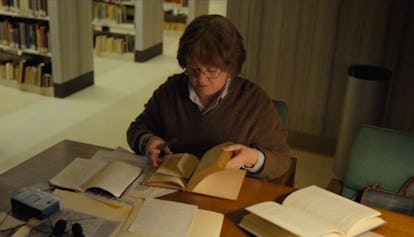 Can You Ever Forgive Me?
Melissa McCarthy has been attempting to diversify her résumé over the past year by taking on more dramatic roles—and now we have a sneak peek at one of her first. She's nearly unrecognizable in the first trailer for Can You Ever Forgive Me?, a true crime story about Lee Israel, a failed writer who turned to forging letters from celebrities and more successful writers.
"I'm months behind in my rent and my cat is sick," says McCarthy, before her agent suggests she "find another way to make a living." In the next scene, McCarthy is at a bookstore, telling the woman behind the register, "I recently found this delightful signed letter."
"Fanny Brice, one of my favorites. I could give you $75. I could give more for better content—it's a bit bland is all," the woman says, to which McCarthy says, "Oh," and proceeds to get back to work on a new one.
"Quite by accident, I find myself in a rather criminal position," she later tells costar Richard E. Grant. "I'm embellishing literary letters by prominent writers." Soon, it catches up with her. "I was supposed to be something more than this," she says. "I can't say that I regret any of my actions. In many ways this has been the time of my life."
McCarthy, who has another drama coming up—a mob wives film with Tiffany Haddish—has already earned some awards-season buzz for the role, according to Vulture. Ironically, she wasn't originally slated for the role; Julianne Moore was, as The Hollywood Reporter noted two years ago. The film, which comes out October 19, has also changed directors since then: Nicole Holofcener, who wrote the screenplay, was later replaced by Marielle Heller, best known for helming 2015's The Diary of a Teenage Girl.
"There are pitfalls to biopics that are hard to get away from," Heller told Entertainment Weekly of working on the film. "There's an expectation that you're doing a certain amount of journalistic storytelling that's going to give an exact play-by-play showing someone's entire life from cradle to grave. This does none of that… It's a really complex, fascinating character study about this difficult woman and I hope you enjoy it. We had a lot of fun making this movie."
Related: Melissa McCarthy Goes Back to College in Life of the Party Trailer