Melissa McCarthy and Tiffany Haddish to Star in Mob Drama The Kitchen
And it'll be directed by "Straight Outta Compton" writer Andrea Berloff.
---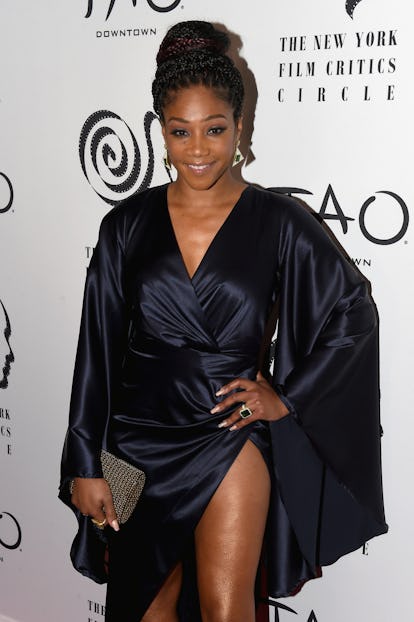 Nicholas Hunt/Getty Images
Two of the greatest minds in comedy, Tiffany Haddish and Melissa McCarthy, are finally joining forces — only it may not be much of a laughing matter. The Bridesmaids star has just been tapped to appear alongside Haddish in the mob drama The Kitchen, Variety reports. For those unfamiliar with the title, it actually hails from the Vertigo comic book series that follows three women and the fallout they experience after their Mafia-affiliated husbands are sent to prison by the FBI. They take business into their own hands and end up running their husbands' illegal affairs in 1970's Hell's Kitchen.
As for how Haddish and McCarthy will play the roles, that has yet to be detailed. Considering the players involved, though, it would be a shock if there weren't some jokes involved à la comedic relief. That approach is how director Andrea Berloff handled the script she co-wrote for 2015's Straight Outta Compton. (The Kitchen marks her directorial debut.)
The fact that the film is a drama, however, is likely what attracted Haddish and McCarthy who have talked about branching out of comedy before. Haddish, most recently, revealed her dream would be to make a period drama based on the book Shakespeare's Dark Lady?. " I would like to shoot it as a series," she told Essence. Haddish has also teased the possibility of working with Paul Thomas Anderson. "I've been talking to him on the telephone!," she recently said. "I mean, he put his phone number out there, so I had to call. I've talked to him a few times and we're probably gonna work together… "Well, we've been talking a lot about Los Angeles, back when Central Avenue was the Sunset Boulevard of L.A. … I don't know, I don't know!"
Meanwhile, McCarthy has also made plays to crossover into drama. Last summer it was announced that she would be suiting up as a Boston police offer in a '70s-set drama about the city's first female cop. McCarthy is also co-producing the film with her On the Day company she co-runs with her husband, according to Deadline.
There is not yet a release date for The Kitchen but it can't come soon enough.
Related: Melissa McCarthy Goes Back to College in Life of the Party Trailer
Go Behind the Scenes of "Ghostbusters" with Paul Feig
"The great thing about funny people is that there is a weird camaraderie. Unless they're complete divas, which most people in comedy aren't just because you can't be. You're only really as funny as the people you're working with."
Photo courtesy Columbia Pictures.
"Who knew Chris Hemsworth was this good at comedy? The first day he gets to set, and he just starts improvising. Half the jokes in his first scene are his."
Photo courtesy Columbia Pictures.
"This is Leslie Jones's first day. This really encapsulates what it was like working with them every single day. We just laugh all the time."
Photo courtesy Columbia Pictures.
"This is the final version of the gun. I wanted to show how they kept learning how to make them smaller from the field tests, but this is the hero gun in the third act, so I wanted it to look badass."
Photo courtesy Columbia Pictures.
"Me with my DP Bob Yeoman. He shoots all of Wes Anderson's movie, and everything I've done since 'Bridesmaids'. We wanted the movie to be richer looking, so it doesn't play as 'comedy'."
Photo courtesy Columbia Pictures.
"In the lab. My set dresser Leslie Pope did all this research over at MIT. This is what experimental equipment looks like, just sort of cobbled together metal devices."
Photo courtesy Columbia Pictures.
"This was special. It was halfway through filming, and it was time to put out a hero shot for the Internet. I had to jump in."
Photo courtesy Columbia Pictures.
"We shot mostly in Boston. I usually wear a bespoke suit on set, but this is Ralph Lauren."
Photo courtesy Columbia Pictures.
"Nobody's quite as good as Katie Dippold, my co-screenwriter. She's on set every day, handing me joke son a Post-It note. And Matt Walsh is one of those amazing improvisers who can show up for a role with no jokes in it and turn it into a funny, memorable part."
Photo courtesy Columbia Pictures.