The Brant Brothers Can Teach Us a Thing or Two About Makeup
Beauty lessons from Brant scions Harry and Peter, MAC Cosmetics' newest collaborators.
---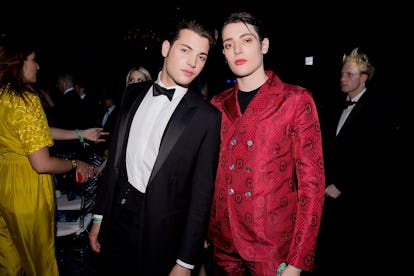 Growing up with a supermodel mom and a publishing powerhouse and art collector dad, Peter and Harry Brant learned about the power of beauty and art from a very early age. Now they're putting their passions to use with a collection of gender-neutral makeup and skin care called MAC Brant Brothers. They shared their makeup history (they're just like us – they stole mom's makeup), their makeup peeves, and why they hate waterline eye lining.
How did this collaboration come to be? Peter: It all kind of started with our relationship with people at [Estée] Lauder and MAC. My mom works for Estée and she's close with a number of executives there. We just met them out, and we'd always talked about getting together and doing a collaboration. It was really [Lauder Executive Group President ] John Demsey's idea. He talked to us about it and we've been working on it now for several years with them. And we're so happy that its come together. It's so amazing.
I think it's really cool that there are skincare products as well as makeup. I love that there's skin care and prep, too. Was that important because men's skin goes through a lot every day? Peter: I think everyone's skin goes through a lot every day, and everyone needs products that help maintain their skin, especially if you're using any kind of cosmetics. You have to wash your face constantly. Harry: Makeup is harsh on your skin. If you don't have the proper skincare routine with it, then it will fall to shit. I'm definitely a victim to that because I do love makeup and I love playing with it all the time. Even if you're just doing it at home for fun, just to practice, it just starts to take a really bad toll on your skin if you don't keep up with the proper regime.
How did you guys first start to play with makeup? Did you go into your mom's makeup kit? Harry: I first started to play with makeup by definitely going into mom's and I started stealing her products because makeup is really expensive and I didn't really have access to it when I was younger. … My little sister has just started doing that to me, which I find a pain because it's really, really frustrating!
Karma! Harry: But I kind of encourage it because she's really makeup obsessed, which I think is adorable. So, next generation.
How old is she now? Harry: She's 11.
Well, that's the age! Is that around the age when you guys started playing with makeup? Peter: I think I was a little bit older. For me, when I was 14 and first started going out in the city with my friends, we used to crash parties and RSVP and my dad— Harry: I never crashed parties. Peter: Harry, that's because I was already invited by the time you started doing it. I'd been crashing for so long. I'd RSVP in my dad's name, and they'd say, "Oh, of course!" Then I'd show up with a friend and we'd steal some couture dress from my mom and we'd do our makeup in someone's apartment. Sometimes I'd have to meet my dad at midnight, wearing some crazy outfit and I'd be taking eyeliner off my face before I got in his car. I remember one time definitely going to a W magazine anniversary party with a friend and we wore gold eyeliner and gold outfits, and it was totally ridiculous. My dad definitely took me home after that and said, "What are you wearing?"
And did you say, "Look, Dad, I'm expressing myself. Get over it." Peter: I was like this is the coolest thing. It's fashion, you know? It's all about finding whatever it is you want to be and putting it outside for everyone to see in a fun way. It's about expressing yourself.
Agreed. A lot of this is sounding kind of retro. It kind of reminds me of the "Club Kid" days. Were you inspired by that? Harry: One hundred percent. The gender lines are starting to blur again, which is really, really great. People are starting to be more celebrated for their creativity. And I really think that once you leave high school, you realize that being normal is something that people want to shy away from, and the more true you are to yourself and the more individual you are, the more people are inherently attracted to you. So, I think people can definitely express themselves in a great way through makeup, because it is all about fantasy and turning yourself into someone you might not necessarily be on an everyday basis, so you kind of get to escape for a night with this new personal. That's what I always did.
So, you're introducing how you have fun to other people. Harry: Yeah, and I like how a lot of my girlfriends put it when describing the line: It's every thing you need to feel really, really sexy and fun. Because it's kind of all the basics, but the line still has the gold eyeliner and the silver pearlescent eyeliner, which can be used in a more creative way, not so much every day. But kind of covers across the boards for enhancing your features. And that's why the unisex part is so great because, for men, you do want to look a little more natural in terms of the features you're going to enhance and all that, even if you are going to have fun and go crazy with it, so when women do use the line, it appears very natural.
I know it's like asking who your favorite child is, but do you each have a favorite in the line? Peter: For me, it's the Pro Sculpting Cream Duo, the dual-toned palette. I think that's the best. There was a lot of collaboration that went into it, because we really wanted it in a palette together, and they didn't know if they could put it into one compact, so we designed a special compact and it's just something you have to have and mix. For me, it's the funnest product to use, and it has such an amazing effect, and I think it's great. Harry: The lip stains are my favorite. We were originally supposed to have one or two colors, but the team liked them so much that we actually created four. And it has such a great response. Peter: There were so many more, too. We couldn't keep them all. Harry: It was actually something MAC used to make, like about eight years ago. The MAC artists were really excited that we brought it back. My favorite thing about it is, I don't like wearing lipstick or things like that because I think it's really obvious that I'm wearing lipstick and I don't like the upkeep of it. So I always used to wear lip stains, but I could never find one that would stay on for the entire night and this lasts. I remember putting it on my hand and it lasted for 24 hours. That really deep blood red, which I'm all about or that really nice purple-hued deep dark red. That's probably my favorite. That and the gold eyeliner and pearlescent eyeliner.
What makeup look do you not get? Harry: I think all makeup can be done in a fabulous way if you know how to do it and you do it in moderation. If you know how to do it properly and all those trends do come from a particular style of makeup that was at one point done in a great way. What I don't like is when the really basic uneducated way to do makeup, which is when you're using colors that don't match your skin tone properly or when people, I really sometimes hate it when put black liner in the waterline of their eyes trying to make their eyes look bigger and they don't realize it gives them pinhole eyes. Peter: Oh, I hate that, too. I would say the worst is pancake face. I think that's very offensive. It happens to everyone, but when people use powdered makeup and you're not keeping your skin damp and wet enough.
Dewy? Peter: Yes, when it's not dewy and it ends up being dry and cakey and flakey, you end up with what we call pancake face which is very unfortunate.
No one wants unfortunate makeup.
Photos: The Brant Brothers Can Teach Us a Thing or Two About Makeup
Peter Brant, Jr., and Harry Brant at the amfAR New York Inspiration Gala in New York, New York, June 2016. Photo by Getty Images.
The Brant brothers debut their MAC Cosmetics collaboration in New York, New York, March 2016. Photo by Getty Images.
Peter Brant, Jr., and Harry Brant at Givenchy Spring 2016 n New York, New York, September 2015. Photo by Getty Images.
Stephanie Seymour with sons Peter and Harry at the Tribeca Film Festival Chanel Artists' Dinner in New York, New York, April 2015. Photo by Getty Images.
The Brant brothers debut their MAC Cosmetics collaboration in New York, New York, March 2016. Photo by Getty Images.
RJ King, Eric Rutherford, and Peter Brant, Jr., at Naomi Campbell's birthday celebration. Photo by Neil Rasmus/BFA.com.
Harry Brant at Naomi Campbell's birthday celebration. Photo by Neil Rasmus/BFA.com.
Princess Olympia of Greece and Harry Brant at the Blonde. Photo by BFA.
Matisse's crew, from left: Andrew Warren, Paris Hilton, Jason Binn, Barron Hilton, Peter Brant Jr., and Peri Callimanopulos in Miami, Florida.
Barron Hilton, Bambi, Gaïa Matisse, and Peter Brant II. Photo by bfanyc.com.
Rebecca Cohen, Todd Cohen, Caroline Vreeland, Cameron Klippsten, Peter Brant II, Barron Hilton, and Alexandra Vreeland. Photo by bfanyc.com.
Sebastian Faena, Paige Reifler, and Harry Brant. Photo by BFAnyc.com.