Harry Styles Has Reportedly Sacrificed His Dating Life
The singer has great respect for quarantining rules, according to Us Weekly.
---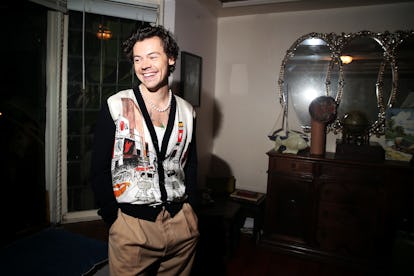 Photo by Rich Fury via Getty Images
For all the pandemic's disruption, it has yet to bring a halt to celebrity dating rumors. But that's of no consequence to Harry Styles, whose love life has so far avoided scrutiny. The 26-year-old's strategy is simple: He no longer dates.
Styles's singledom is presumably temporary. But according to an anonymous "source" who spoke with Us Weekly, you won't be seeing Styles on Raya anytime soon. "His dating life has been pretty nonexistent during lockdown because he's been so careful to respect quarantining rules and social distancing," they said. "He and his roommates are quarantining together in L.A., waiting for the world to return to normal like the rest of us, though Harry has made some trips back to London for work and family purposes."
The identities of his current roommates remain unknown, though Styles has previously lived with his former One Direction bandmate, Louis Tomlinson. Early in his career, he also spent 20 months sleeping in the attic of Ben Winston, a producer 12 years his senior who leads an "Orthodox Jewish lifestyle with a strong family emphasis."
Styles has remained productive while holed up, most recently donning a pair of jorts for a Gucci short film. He's released two music videos; recorded a bedtime story for Calm, a popular meditation app; and done at least one juice cleanse. Oh—and he's also taken up Pilates. "I've got very tight hamstrings—trying to get those open," Styles told recently Vogue. The aerobics exercise, along with twice daily meditations, have "changed [his] life."