Harry Styles Doesn't Mask Up Properly, Disappoints Humanity
Hazza stans are "beyond disappointed" in the singer for wearing (and occasionally lowering) a bandanna.
---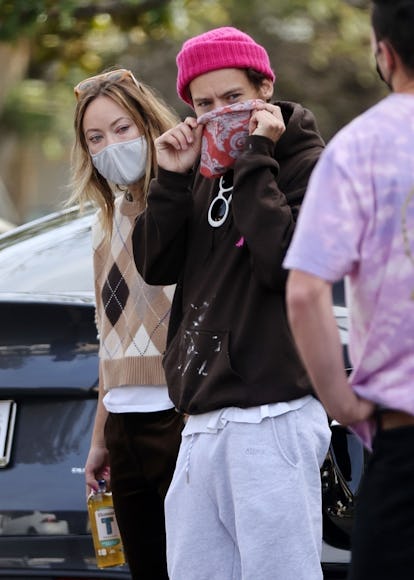 BACKGRID
It's well established that Harry Styles has an eye for accessories, from the single pearl earring that made a splash at the Met Gala to his recent revival of driving gloves. But to say his latest choice is unpopular may be an understatement. The bandanna that Styles recently wore—or, on occasion, didn't wear—while out and about with friends in Santa Barbara has proven so divisive, it's joined his rumored relationship with Olivia Wilde at the top of the Hazza news cycle.
Of course, any type of face covering is better than none. But we've come a long way since the public learned the definitions of "PPE" and "N95," and supply was so low that the U.K. government issued a guide to making face masks out of old t-shirts. At this point, it's well established that bandanas are far from the most effective way to prevent the spread of a virus that's primarily transmitted through airborne droplets. One study, in Science Advances, found that wearing bandanas or neck gaiters may actually cause more harm than not masking up at all.
To make matters worse, Styles is currently near Los Angeles, where cases of Covid-19 are on an astronomical surge. Nearly one in four people are testing positive. And with the number of people hospitalized at a record high, hospitals are reaching a breaking point. Emergency rooms are stretched to—or past—capacity, and thousands of exhausted healthcare workers are testing positive themselves.
For Hazza stans on Twitter, where Styles has repeatedly encouraged adherence to public safety guidelines, it's all proven too much. On Wednesday, "HARRY WEAR A MASK" became the 21st top trending phrase on the app worldwide. And as more photos of Styles have emerged, featuring he and four others not even bothering to up, the backlash wears on. "People are using GIFT SHOPS [in L.A.] to house Covid-19 patients," one tweeted. "Don't be like Harry, wear a mask! Normalise calling out your faves."
"We are not trying to get Harry canceled," another tweeted. "We are simply trying to educate him on the [lives] that have been [taken] by people not wearing masks, social distancing, and not wearing the right mask." Styles seemed to have known as much for the entirety of 2020, including while in close contact with Wilde on the set of her upcoming film Don't Worry Darling. But the pair seems to have forgotten that pods and regular tests aren't fool-proof; they didn't stop a member of the film crew from contracting Covid-19 in November, bringing filming to a halt.
Related: Harry Styles and Olivia Wilde Seem To Be 2021's First New Power Couple