Harry Styles Co-Stars with Piglets in New Gucci Campaign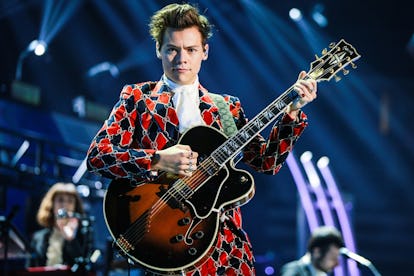 Rich Fury/Getty Images
You heard it here first: The look for fall 2018 has a distinct "I just threw this on on my way to the petting zoo" vibe. Harry Styles, for one, is doing an excellent job of demonstrating that eternal mood in his latest Gucci campaign, for the brand's Cruise 2019 Men's Tailoring collection. Photos from the campaign dropped Tuesday, well ahead of the official November release, and show Styles dressing up in Gucci's signature boldly patterned, impeccably cut suits while hanging out with a few very cute friends (no, not his former One Direction bandmates).
In one of these shots, Styles wears a classy navy windowpane patterned suit with brown suede detailing at the cuffs and lapel, and lime green edging on the suit and pockets. He pairs the look with casual striped sneakers and, obviously, carries a sweet baby lamb across his shoulders. In another truly stunning image, the musician dons a lavender blouse and pants, topped with a pale gray suit coat, wears a gold crown of leaves in his tousled hair, and carries a tiny piglet in one arm. l.
The campaign was styled and creatively directed by Alessandro Michele, of course, and shot by Glen Luchford, and art directed by Christopher Simmonds. It took place in the lush and peaceful Italian Renaissance gardens of the historic Villa Lante, located north of Rome. See more photos from the gorgeous, '70s-glam campaign below.
This isn't the first time Styles has gotten up close and personal with a squad of barnyard animals for his beloved Gucci. In June, the designer unveiled its Fall 2018 Men's Tailoring campaign, in which Harry once again sported a few perfectly tailored and uniquely styled suits. This time, however, he was photographed in a fish and chips shop in North London, surrounded by a few rogue chickens and a scruffy pack of dogs. Sounds like a setup for a health code violation — and yet another series of amazing looks to make your own this fall.
As for Michele, maybe it's not a surprise that he's cast baby piglets in his latest Gucci campaign. Afterall, one of the few accounts he follows on Instagram features a group of tiny pigs in Florida.
Related: Gucci's Secret to Success? A "Shadow Committee" of Millennials
Harry Styles' Fashion Style Evolution: See 32 of the Pop Star's Best Looks
Harry Styles attends the "DUNKIRK" premiere in New York City.

Getty
Harry Styles attends "Dunkirk" Premiere at Ocine on July 16, 2017 in Dunkerque, France.

Getty
Harry Styles attends the 'Dunkirk' World Premiere at Odeon Leicester Square on July 13, 2017 in London, England.

Getty
Promoting his new album, Styles wears a red plaid suit out in London.

Getty
Styles stays committed to Gucci in a logo sweatshirt while out in Paris in 2017.

Getty
Styles performs on NBC's "Today" at Rockefeller Plaza wearing a shocking pink suit.

Getty
Harry Styles performs "Sign of the Times" in a Gucci suit on Saturday Night Live.

Getty
Styles shows off his dramatic haircut, but keeps it classic in his fashion choices with a perfect fitting black suit and crisp white shirt.

Getty
For the BBC Music Awards, Styles wore black and white vertical striped pants and a black shirt. Here he is on the red carpet with his bandmates from One Direction.

Getty
Not ever afraid to take a risk on the red carpet, Styles wears a floral Gucci suit with wide-legged trousers.

Getty
Styles greets his adoring fans in a navy spring coat and gray jeans on his way into BBC Radio 2.

Getty
Fearlessly wearing a Gucci geometric print two-piece suit and black leather boots, Styles attended an event in London.

Getty
Styles wears a bold Saint Laurent bomber jacket to perform One Direction's latest single as part of Good Morning America's summer concert series.

Getty
Attending the Capital FM Summertime Ball with One Direction, Styles wears a chevron-printed shirt with a skinny scarf.

Getty
Styles attends the Glam Rock Christmas Party in London in a revealing black shirt and long, striped trousers.

Getty
Taking a major fashion risk on the red carpet, Styles wears a Lanvin striped suit and black boots.

Getty
Performing with One Direction at the 2014 American Music Awards, Styles wears a gold embellished jacket and low-rise jeans.

Getty
Styles, along with the other boys of One Direction, attend the Royal Variety Performance with the Royal family. Styles wears an animal print jacket over a black low-cut shirt.

Getty
Styles goes full rock-and-roll at LAX in all black jeans and t-shirt, accessorized with a blue scarf, wide-brimmed hat, and sunglasses.

Getty
At the launch for One Direction's fragrance, Styles wears a oversized plaid shirt, unbuttoned in his usual manner, tight jeans, and a large hat.

Getty
Seen out with friends (Hi, Ed Sheeran), Styles wears a Calvin Klein sweatshirt and a head scarf wrapped around his famous locks.

Getty
For the 2013 British Fashion Awards, the London megastar shows up in a sheer black shirt, blazer, and a scarf.

Getty
Styles wears a dark wool coat over an animal print shirt and black jeans at the Burberry Spring/Summer 2014 show.

Getty
For the World Premiere of One Direction This is Us, Styles wears a heart print Burberry shirt under a black suit.

Getty
Styles, showing off his tattoos in an unbuttoned shirt, and Miley Cyrus pose together backstage at the 2013 Teen Choice Awards.

Getty
Seen in Miami Beach to film a One Direction music video, Styles steps out in unbuttoned plaid shirt and a tan hat.

Getty
Styles gets buttoned up in a double-breasted suit and patterned shirt at a dinner in London.

Getty
Harry Styles' fashion for a 2012 taping of the Late Show With David Letterman with his band One Direction featured a monochromatic ensemble completed by leather moto boots.

Getty
True to the trends, Styles wears a blazer with pushed up sleeves over a gray shirt at BBC Radio 1 Teen Awards.

Getty
Styles goes casual with black jeans, a gray t-shirt and Converse while hanging out with Nick Grimshaw at the Shoreditch House in London.

Getty