Harry Styles Fills in as Late Late Show Host While James Corden's Wife Gives Birth
"James, naturally, called the funniest guy he knew."
---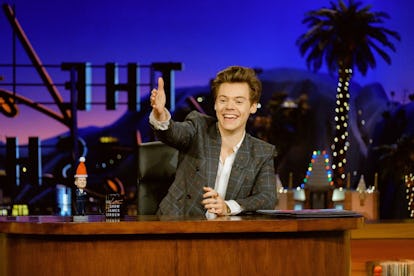 Terence Patrick/CBS
When James Corden was unexpectedly absent from the Late Late Show on Tuesday night, one of his good friends oh-so-gallantly stepped up to the plate. Audience members were shocked and delighted though, when another charming Brit, Harry Styles, stepped out from behind the curtains to take Corden's place. Styles started his monologue by joking about the reason for Corden's absence: "Donald Trump finally got sick of James's jokes and deported him back to England."
As feasible as that might sound, Styles clarified that Corden was actually missing for a much happier reason. "This is very exciting. Just half an hour ago, James and his wife Jules had a beautiful baby girl," the singer said. "In fact, I was just at the hospital before I came to fill in, and she looks a lot like James—mainly because James looks like a giant baby." Styles went on to address the rumors of his own relationship with Corden after the moment in the new Christmas Carpool Karaoke video where the duo share a smooch went viral this week. "We will also be having a baby," Styles quipped, offering up a very realistic photo of a baby with Corden's head and Styles's tattoos as proof.
Later, once he was settled in behind the desk, Styles spoke more about stepping in for Corden at the very last minute. "I have to be very honest, it's not exactly how I saw my day panning out. I was sat at home two hours ago in this suit, obviously, and I got the call that Jules was going into labor," he said. "So James, naturally, called the funniest guy he knew… and he wasn't around, so I'm filling in."
The "Sign of the Times" singer, who spent a full week in May performing songs off his new album, appearing in segments, and doing guest monologues on the Late Late Show, went on to do a "Dogs in Sunglasses" bit before interviewing Joel Edgerton, Jane Krakowski, and Owen Wilson with great aplomb. If the solo singing and dramatic acting things don't work out for Harry Styles, he's definitely got a future in late night hosting.
Corden sent a thank-you to Styles in a tweet on Tuesday night, in which he also shared that his wife and new baby were doing well. "Today we welcomed a beautiful baby daughter into the world. Both she and her mother are doing great. We can't stop smiling. Thank you Harry for stepping in to host the show at 2 and a half hours notice! x x x" he wrote.
Related: James Corden Debuts Christmas "Carpool Karaoke," Starring Harry Styles and Katy Perry