Harvey Weinstein: He's Baaack!
Several years ago I witnessed Harvey Weinstein give a major publicist a particularly harsh tongue lashing, a stream of un-Shakespearan prose spilling out of him without any pause for breath. It was my first experience...
---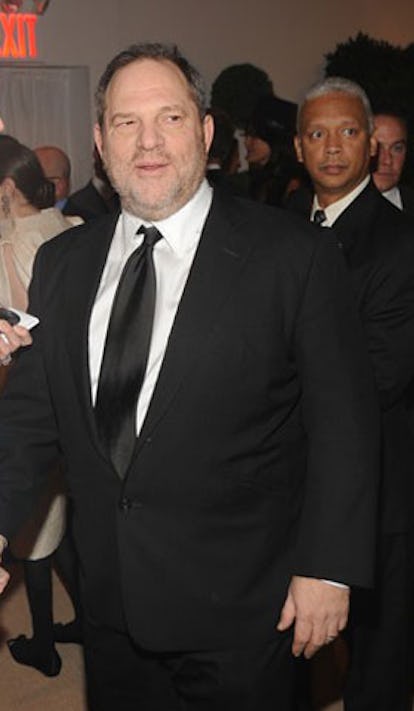 And so just when you thought it was safe, Harvey Weinstein is back in the game, proving once again that he can, scoring six Academy Award nominations, among them best actress for Kate Winslet (The Reader), best supporting actress for Penelope Cruz (Vicky Cristina Barcelona), best director for Stephen Daldry (The Reader) and the big one — a best picture nomination — also for The Reader. It's been five years since Harvey saw his name associated with the home stretch of the Oscar race — his last nomination was a best pic nod for Gangs of New York — and it's been slow out of the gate for the big guy since setting up his Weinstein company along with his brother Bob in 2005.
Both VCB and The Reader are reminiscent of the movies Weinstein made at the top of his game back when he ran Miramax, and perhaps their success can be credited to a more humbled Harvey, one that has forced him to return to his famous instincts. The Reader in particular was heavy lifting from the get-go: delays in pre-production, which forced its original star, Nicole Kidman, and the great cinematographer Roger Deakins to bail; the unfortunate deaths of two of the film's producers, Anthony Minghella and Sydney Pollack; well-documented disagreements between Weinstein and producer Scott Rudin; and the less well-documented creative tension with writer David Hare and director Stephen Daldry over a voice-over. On release, the film received a withering review from the New York Times, while the New York Post called it "holocaust porn."
The nomination for best picture is particularly surprising because it edged out the hugely successful (critically and commercially) Dark Knight as well as Gran Torino, both of which had expected to get a best pic nod.
And so here we go again, Harvey proving that once again, he's doing it "because he can." Welcome back.
Photo by Steve Eichner.