Celebrities React to the Harvey Weinstein Verdict: "I Hope the Handcuffs Are Tight"
The convicted rapist could face up to 29 years in prison.
---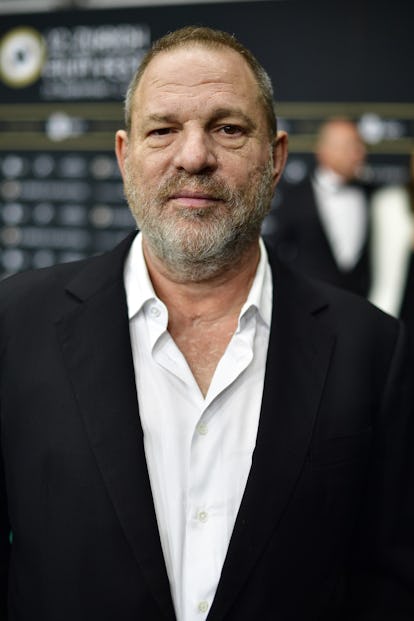 Alexander Koerner/Getty Images
On Monday morning, those gathered in a Manhattan courthouse witnessed what many have hoped to see since at least October 2017: the sight of Harvey Weinstein in handcuffs. The 67-year-old has been convicted of rape and sexual assault against two women, and could face up to 29 years in prison. He will remain in custody on Rikers Island until his sentencing date, on March 11.
The decision marks a victory for Jessica Mann, who successfully charged Weinstein with first- and third-degree rape and predatory sexual assault, and Miriam Haley, who successfully charged Weinstein with one count of criminal sexual act and predatory sexual assault. But Mann and Haley are just two of the more than 100 women—Gwyneth Paltrow, Salma Hayek, and Uma Thurman among them—who have accused Weinstein of sexual assault or harassment since the #MeToo movement began.
In addition to Mann and Haley, four women were allowed to testify as part of the prosecution's efforts to establish a pattern of predatory behavior. (Under New York's statute of limitations, their allegations are too old to prosecute.) However, their testimonies apparently didn't convince the jury, which voted to acquit Weinstein of the trial's most serious charge—predatory sexual assault, which could have led to a life sentence.
"Harvey is strong," Weinstein's lawyer, Donna Rotunno, told reporters outside of the courthouse. "He took it like a man." ("The words he said over and over again to me is, 'I'm innocent, I'm innocent, I'm innocent. How could this happen in America?' " another of Weinstein's lawyers said.) Rotunno added that Weinstein's legal team plans to appeal the conviction "immediately," but that didn't stop some from celebrating in the immediate aftermath. "We did it," Ambra Gutierrez, who attempted to bring down Weinstein with the NYPD in 2015, posted on her Instagram Stories. "Guilty," Cara Delevingne, who has accused Weinstein of sexual harassment, wrote on the app.
For the most part, though, the reactions have been bittersweet. "While it is disappointing that today's outcome does not deliver the true, full justice that so many women deserve, Harvey Weinstein will now forever be known as a convicted serial predator," more than 20 Silence Breakers said in a statement shared by Time's Up.
Like many others, they also lauded the women who spoke out against Weinstein, despite legal intimidation. "Gratitude to the brave women who've testified and to the jury for seeing through the dirty tactics of the defense," Rosanna Arquette tweeted. "We will change the laws in the future so that rape victims are heard and not discredited, and so that it's easier for people to report their rapes."
The name of one accuser in particular, the actress Annabella Sciorra, began trending on Twitter immediately after the news broke. In January, she delivered an excruciatingly detailed account of her allegations that Weinstein raped her in her apartment more than two decades ago. Apparently, the jury was unconvinced. In an all-caps tweet, Rosie Perez wrote that she was "gutted," and Alyssa Milano and Amber Tamblyn tweeted the hashtag "#IBelieveAnnabellaSciorra." "She put everything on the line," Sandra Bernhard wrote in a tweet seconded by Mia Farrow. "I want to see her back on the screen where she belongs."
Tarana Burke, founder of the #MeToo movement, seemed reluctant to celebrate the news. "This case reminds us that sexual violence thrives on unchecked power and privilege. The implications reverberate far beyond Hollywood and into the daily lives of all of us in the rest of the world. Whether you are an office worker, a nanny, an assistant, a cook, a factory worker—we all have to deal with the specter of sexual violence derailing our lives," reads the statement she shared on MeToo's website. "And, though today a man has been found guilty, we have to wonder whether anyone will care about the rest of us tomorrow. This is why we say MeToo."
Still, when it comes to Weinstein in particular, his victims might see a bit more justice yet. Earlier this year, the convicted rapist was indicted on four counts of felony sexual assault in Los Angeles, which were brought by two women whose allegations stretch only a day apart. As Judd Apatow reminded his Twitter followers: "This is just the beginning of holding him accountable."
Related: Weinstein's Lawyer: Don't Believe Actresses Because They Can Act