Heather Graham Is Making Big Little Lies Author Liane Moriarty's Next Television Adaptation
She will be producing and starring in a TV adaptation of a Moriarty novel.
---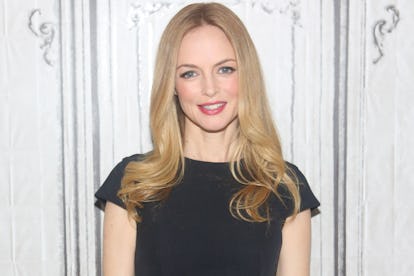 Adela Loconte/WireImage
Heather Graham never had the career she deserved. While she's starred in beloved films, from Boogie Nights to The Hangover, and guest-starred on TV shows like Twin Peaks and Arrested Development, she has never managed to keep her momentum. Soon, though, that could change as the actress has latched on to a winning formula: She is partnering with Big Little Lies author Liane Moriarty to executive produce and star in an adaptation of the writer's 2011 romance novel The Hypnotist's Love Story.
Graham just sold the show to ABC as a pilot, according to Variety. The show is centered around a hypnotherapist who is blindsided by her new love interest's stalker ex-girlfriend. It has yet to be announced which role Graham will be playing.
The show will no doubt bring more credibility to Graham, who has long been seen as a comedic actress, although she's not really concerned about that these days. "If someone made me cry, I thought that was the ultimate achievement," she told ET last year. "I just felt like, I want to be in really depressing films that will win an Academy Award. And then I thought, I don't, really—I just want to laugh and find the humor in things."
Graham also recently opened up about how her career was impacted by the serial predator Harvey Weinstein back in the aughts. During one of their meetings, she said, he propositioned her. "There was a pile of scripts sitting on his desk," she wrote in an op-ed for Variety. " 'I want to put you in one of my movies,' he said and offered to let me choose which one I liked best. Later in the conversation, he mentioned that he had an agreement with his wife. He could sleep with whomever he wanted when he was out of town…There was no explicit mention that to star in one of those films I had to sleep with him, but the subtext was there."
She also shared that she's happy with the progress that's been made thanks to the #MeToo movement. "I'm glad the victims are being heard, that powerful voices in the industry are speaking up to say this kind of behavior isn't acceptable anymore, and that a predator is finally facing the consequences," she wrote, "it means the world is starting to change for the better."