Heather Kemesky Was Once Told She Was Too Short To Model, But Now She's Walking For Louis Vuitton
The model talks personal style, Paris Fashion Week, and her Halloween obsession.
---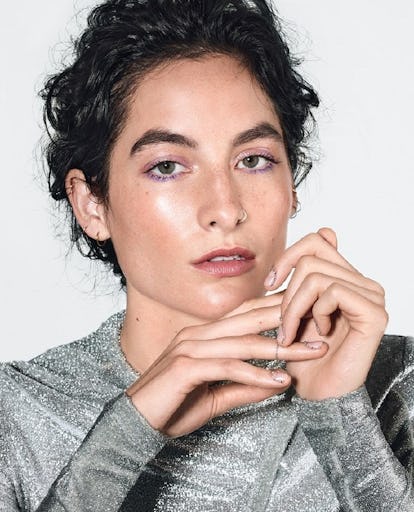 Photograph by Richard Burbridge, Manicure by Naomi Yasuda, Makeup by Francelle Daly
At 5'9″, Heather Kemesky towers over the average American woman. But when heading to castings in the early days of her career, the model was told that her height was not enough to land her spots on the runway. "When I started at 14, I was always told I was too short for shows," she said. "I said one day I will do a show…watch me!" A decade later, Kemesky is now a regular at Paris Fashion Week. "I signed with DNA Models two years ago, and met with [casting director] Ashley Brokaw," she said of her career highlights. "Having her and Nicolas Ghesquière put me in Louis Vuitton show exclusively for my first show ever was pretty extraordinary." Kemesky once again walked the Louis Vuitton show for Spring 2018 just last month. "The collection was the most beautiful to me," she said. "It felt inspired by The Lost Boys, with the runway in that dungeon-like feeling area of the Louvre." Here, the model talks about her style inspirations, her Halloween obsession, and more.
What are three words that describe your personal style? Timeless , tomboyish, and simple-unique-ish?
What is your daily uniform? It really depends what I'm doing, but a pair of black pants, or some kind of looser trouser, black boots, and a simple shirt is my go-to. I prefer layers if it's cold enough, and like to layer my jewelry, too, which is contingent upon the weather .
Who do you look to for style inspiration? I usually go for an '80s rock star. Or a pirate.
What's your favorite piece in your closet right now? I'm forever dedicated to my boots, which are often Louis Vuitton.
What was your last purchase? It's my birthday month, so I have spoiled myself and bought a very cool Polaroid camera, along with a bib necklace made of bronze bells and African beads, which are all wrapped and knotted together.
What's your favorite song to play while getting dressed for a night out? I like to put on David Bowie's "Golden Years."
Where's your favorite place to shop? I like to find random treasures all over the place. From Metropolis' vintage band tees to a visit to Barneys for other things, I find myself going to myriad stores all around the world.
What's something you would never wear? An itchy sweater. Or a tiny sock that falls below your heel in your shoe.
What music are you currently obsessed with? I'm really into Halloween, so my month of October is all sorts and kinds of Halloween soundtracks or Halloween-ish spooky music. That's my obsession for this month!
What TV show are you currently obsessed with? Game of Thrones. I love that period and the wardrobe and the magical dragons. Of course.
What was the last thing you Googled? Inspiration for pumpkin carving
Who is your favorite person to follow on Instagram? Some of my favorites are @WorldAnimalNews, because animals are a passion of mine, so I like to keep up with stories and the news about what's happening to them all over the planet; @LetsCookVegan for some daily friendly food inspiration, which is just one of a million food Instagrams I follow; and @InfiniteWaters, where Ralph Smart gives some daily calm and feel good quotes. And of course my babe, [model] Erika Linder, my greatest inspiration. And Cameron Russell because she's the greatest influencer.
Related: Cameron Russell Is Exposing Sexual Assault In the Modeling Industry on Her Instagram
Model Gigi Hadid Reveals the Secret to Her Signature Runway Walk
Paris Fashion Week Spring 2018: See the Best Looks Straight From the Runway
Y/Project played with their usual tropes this season – reworking denim and sweatshirt fabric, but the standout included a more refined look covered in head to toe tulle.

Victor VIRGILE
One of the highlights of Dior was the finale dresses that seem to be inspired by broken glass, including this blue one worn by Adwoa Aboah.

Pascal Le Segretain
Simon Porte Jacquemus kicked off Paris Fashion Week, and left more than one stylist feeling like he really "got" them. Even though he said this collection was inspired by his mother at the sea, it didn't feel vintage-y, and Amilina Estevão looked charming in that oversized straw hat.

Richard Bord
Lacoste celebrated a big anniversary this season, and brought their show all the way back to Paris. While a lot of the looks on the runway were a celebration of everything Lacoste is known for, it was very refreshing to see Dilone wearing an off-the-shoulder one-piece tucked into a pair of high-rise jeans.

Estrop
Dries Van Noten's show was full of beautiful looks that we all have come to love him for, including big floral prints, hues of orangey yellow, scarf prints, and some stripes, but a favorite was a embellished camisole and skirt look that also spoke to this season's big transparency trend.

Antonio de Moraes Barros Filho
It is nearly impossible to choose just one look from John Galliano's Margiela collection, but the idea of deconstruction that appeared in a trench coat last season translated to this jacket, with just the endoskeleton of the garment showing, covered in feathers.

Estrop
A stunning spectacle set underneath the sparkle of the Eiffel Tower, the Saint Laurent spring show featured a series of evening looks at the finale, just as last season. the shimmering black dress here called to mind the YSL glamour of yore, despite being worn by Gen Z runway royalty, Kaia Gerber.

Victor VIRGILE
This season, Kenzo offered a '90s upgrade to the city girl's summer look – a one-piece maillot pared with a fanny pack bag and bucket hat.

MOHAMED KHALIL
At Balmain's Spring 2018 show, there wasn't a Hadid or Jenner in sight, but rather top models of the '00s, like Natalia Vodianova, Natasha Poly, and Magdalena Frackowiak. Vodianova's opening look, a pair of patent leather overalls worn over a white button-down top, was one of the highlights of the show.

Antonio de Moraes Barros Filho
There were plenty of elegant, pared-down looks at Rochas' Spring 2018 show, but the way the light reflected on this sparkly number made this dress a standout.

Victor VIRGILE
Kym Ellery know her clients well, and know what they like. The pop of blue was a welcome surprise among the black and white, and detached sleeves were a playful way to take the silhouette she is know for one step further.
Virgil Abloh's Off-White paid homage to the late, great Princess Diana, with Naomi Campbell closing out the show.
At the Undercover spring show, each model had her "twin" who was the same but slightly different, with the show culminating in a series of actual twins wearing the final looks. A collaboration with Cindy Sherman led to a series of "merch tees," while superstitious imagery played a roll in other dresses, like the black cat here and an evil eye featured on other looks.
Both the spring collection and the charming outdoor location at the Nina Ricci show left show-goers in a good mood. This look, with its military inspired shoulders and feather trimmed skirt, combined two of the collection's major elements.
Now French It-Girl's can dress their boyfriends in their favorite label, too, thanks to the house's brand new,—and perfectly-executed—menswear collection.
Jonathan Andersen gave Loewe fans a covetable spring collection, from dresses inspired by carpets to cut and sliced logo pieces that are sure to be all over your Instagram feed before you know it.
Natacha Ramsey-Levi brought a dose of cool to Clare Waight Keller's Chloé, adding her own influences, bits of flou from Waight Keller, and equestrian touches from the Stella McCartney era.
Céline was an upbeat parade of pieces that you didn't even know you needed until you saw it. Great new trench? Check. Long-sleeved midi dress in white sequins? Check. Swinging red striped dress? Check. The R&B music added to the fun and enjoyment of the show—not that the collection needed anything extra.
Pierpaolo Piccioli tapped into '80s era Valentino yet made it thoroughly modern. In addition to the long dresses, embroidered and embellished pieces the brand is known for, he also sent out sport and disco-inspired looks, including this sequin-embellished anorak.
Alessandra Rich's beautiful collection left many editors feeling like they could stay in her atelier all day and play dress up. This lace button-down dress in pure white was a favorite.
This Hermès graphic robe coat is the perfect season-less piece, and a great new closet staple for your wardrobe.

Estrop
Sarah Burton's starting point for the spring Alexander McQueen was being in a British garden. This opening look, a beautiful floral printed two-tone trench with romantic baby pink dress underneath, conjurs up the idea of a young girl running through her country estate just as an rainstorm thundered in.

Peter White
Chanel's fun spring show touched on many of spring's trends, especially that of transparency, shine, and the use of plastic. There were a series of white finale dresses, however, that really stood out. Expect to see quite a few women get married in these dresses come summer.

Peter White
Miuccia Prada mixed the haute and the regular in her spring show, with '50s style dresses styled over shirting made from 'average' fabrics, like cottons and linens. The effect was a more pared down Miu Miu, but certainly no less covetable.

Peter White
Thom Browne's womenswear collection made a stunning debut in Paris—a theatrical delight, yes, but also beautiful, very well crafted collection, making it impossible to choose just one look. It was a runway show worthy of its beautiful setting, the Hôtel de Ville, and a collection worthy of his spot on the Paris Fashion Week calendar.

Peter White
Nicolas Ghesquière married past, present and future in his spring collection, where embroidered jackets were paired with track shorts, cubical bags, and clunky sneakers.

Victor Boyko
Watch: Gigi Hadid and Kendall Jenner Are Performance Artists With a Sense of Humor
Gigi Hadid and Kendall Jenner Are Performance Artists With a Sense of Humor