Heidi Klum Bought a $5.1 Million Fixer-Upper SoHo Loft and You Can Take a Look Inside
With three bedrooms and three bathrooms.
---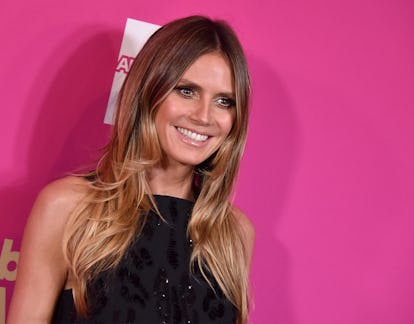 Gregg DeGuire/WireImage
If there's anything that can be gleaned from celebrity real estate, it's that millions never go as far as you'd think. Heidi Klum, for example, recently dropped $5.1 million on an apartment that was being marketed as a fixer-upper. One woman's fixer-upper is another's treasure, as they say.
Still, that price tag does include quite the sprawling layout. Klum's new SoHo loft measures at 4,772-square-feet, as StreetEasy notes. It includes a long, drafty central area bookended by white columns and tall windows on the top floor of a building in the celebrity-favored Manhattan neighborhood. Currently, it only holds three bedrooms and three bathrooms, which have been occupied by an artist for the past 30 years, but the property comes with plans to transform it. It's deeded for skylight rights and a private rooftop terrace.
"An Original Soho Penthouse Loft, ready for your custom renovation!," reads the description on Zillow. "This is an extremely rare opportunity for a discerning buyer to design & create the Architectural Digest Penthouse Loft of their Dreams!"
As daunting as tackling a historic building in a permit-driven city like New York is, Klum's real estate history suggests she's well-equipped for the task. Back in 2014, she turned a $14 million Mediterranean home in Brentwood into a $24 million estate. She ended up pocketing the difference after adding a new master suite that boasted an enviable, custom closet and ocean views, and updating the home's other closets and security. She also brought in the dining room from a hotel in Paris and filled the library with bookcases from Napoleon's country home, as Zillow noted at the time. Those things combined are why she was able to brag in the home's listing that it had "been given the Heidi makeover."
Her inspiration? "I honestly felt that I was no longer in Los Angeles and instead was strolling the gardens of a home in the South of France," she said to Zillow. "By the time we finished, the house was as incredible as its grounds and views. Sometimes I sit in the garden, drinking my coffee, looking at the Pacific, and really feel it is a little piece of heaven." No doubt it won't be long until her SoHo residence becomes the same.