Helen Mirren, Instagram's New Selfie Queen, Agrees 2016 Has Been a Pile of….
Hark! The Helen Mirren 'grams, glory to our new selfie queen!
---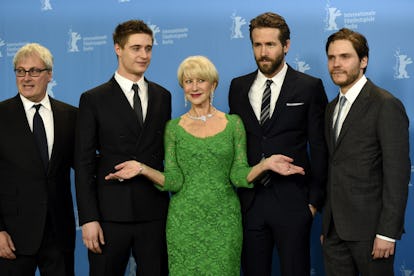 If you've been pleading and praying for 2016 to squeeze out just one little bit of purely good, life-affirming news before it ends, well, someone heard you. That someone is Dame Helen Mirren.
Yes, everyone's favorite septuagenarian glamourpuss has joined Instagram, and is now showering the world with numerous selfies, which really couldn't come at a better time, because as even Mirren herself recognizes, 2016 "has been a pile of s–t."
Those are her words exactly. The woman who won an Oscar for playing Queen Elizabeth II was on The Graham Norton Show recently and Norton asked Mirren to deliver a Christmas message of her own in the style of the real queen.
"Hello. At this time of celebration and togetherness, we have the chance to reflect on the year gone by. And I think we can all agree that 2016 has been a big pile of s–t," she said. "So my advice to you is drink responsibly, and be merry. Have a very Happy Christmas."
We would also advise everyone to go follow Mirren's Instagram account, @HelenMirren because she's just showering the world in selfie gold with fire emoji-worthy captions to match.
Here she is after stealing photographer Peter Lindbergh's hat at the Pirelli calendar launch
"He left it on the table. I hope he got it back," she writes.
Of course, while normal people can barely decide on one selfie-angle to post, Dame Helen Mirren is happy to post two.
We also learn that Mirren does her own Christmas shopping.
But, she does not do her own hair. At least for professional appearances.
Of course, Mirren does occasionally post non-selfies, especially when she's feeling a particular dress.
Thank you so much, Dame Mirren, for swooping in at the very end of 2016 and becoming the best new addition to Instagram of the year. It happened just as we all needed it.