Helen Mirren, Hollywood's Foremost Queen Elizabeth Impersonator, Reigns Over a Haunted House in Winchester
The Oscar-winning actress stars as a grieving widow building a ghost asylum in a new supernatural horror film.
---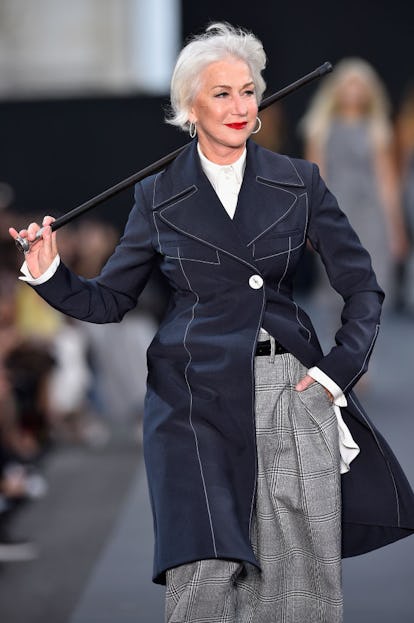 Kristy Sparow/Getty Images
Helen Mirren, four-time Oscar nominee, one-time Best Actress winner, and Hollywood's foremost chronicler of the English monarchy, has reached Nirvana state. In the next year, she will play Mother Ginger in an adaptation of The Nutcracker, a wealthy heiress in Winchester: The House That Ghosts Built, and one-half of a wanderlusty aging couple in The Leisure Seeker alongside Donald Sutherland. In her upcoming film Winchester, Mirren plays the titular Sarah Winchester, heiress to and majority shareholder of the Winchester Repeating Arms Company fortune and the mastermind behind the Winchester Mystery House (real name), a "gargantuan, seven-story structure with no apparent rhyme or reason" that "was built on the orders of a grieving widow." And judging by the new trailer for the movie, Winchester involves a lot of Mirren dressed in outstanding mourning garb and consorting with ghosts.
Winchester spends her days designing and ordering new additions to the sprawling manor, overwriting previous modifications and renovations with her latest fancy. But she's not just an aspiring, overeager architect: According to Deadline, "She is building a prison, an asylum for hundreds of vengeful ghosts." Even more ominously, "the most terrifying among them have a score to settle with the family." (To be specific, Winchester believes her home to be haunted by the ghosts of individuals killed by Winchester guns.) Jason Clarke plays "the brilliant" Dr. Eric Price (PhD? MD? a head-shrinker for the ghost asylum?), whose presence Winchester has requested at the manor (is there any more tried-and-true horror formula than skeptic-comes-to-haunted-house?); actress Sarah Snook, of Steve Jobs and The Glass Castle, plays the Winchester niece.
Judging by the first trailer, Winchester is a thriller of the supernatural, rather than psychological, variety—ghosts are real and visible, and they pop up at the least convenient moments, like in your bedroom late at night. Winchester is slated for release next February, and, as Jezebel pointed out, it's perfect for Valentine's Day counter-programming. It's never not a good time for creepy stories set at sprawling manors. Especially when there are ghosts involved. And if Helen Mirren can't play James Bond, at least she has this.
Noah Cyrus would call her sister Miley if she had car trouble, her dad Billy Ray if she needed a laugh: