New Film Hello, Again Is Basically a Steamy, Softcore Musical with a Bunch of Random Celebrities
Audra McDonald, Martha Plimpton and Rumer Wilson star in the big screen adaptation of an off-Broadway classic.
---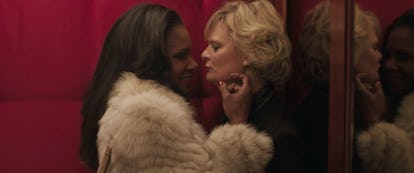 If one wasn't familiar with the 1993 off-Broadway play Hello, Again, the takeaway you might get from the trailer for the big screen adaptation is that it's sort of like an all-star, time-hopping musical version of MTV's cult hit anthology series Undressed. Which is to say its plot is a collection of small stories about random hookups with an emphasis on the steamy. Except wth singing, and a whole lot of random celebrities.
The assembled cast includes everyone from six-time Tony winner and literal Broadway goddess Audra McDonald to former Dancing With The Stars winner (and a Broadway vet herself) Rumer Willis. Martha Plimpton, Cheyenne Jackson, T. R. Knight, Glee's Jenna Ushkowitz and actor and former Versace underwear model Nolan Gerard Funk also pop up.
To actually clarify what is going on here, Michael John LaChiusa's original play was an adaptation of La Ronde, a controversial German play from the late 1800s. The Americanized adaptation involves 10 short-lived relationships that take place over each of the ten decades of the 20th century in New York City. As such the music of the film spans from straight-up opera to disco.
LaChiusa's version added an element of homosexuality to the German original, and director Tom Gustafson's version goes even further. Sam Underwood plays a character called "The Whore," that was typically played by women on stage (indeed Tony winner Donna Murphy originated the role). Plimpton meanwhile plays the Senator, a role originally intended for a man.
With all that in mind, please watch the craziness of the trailer for yourself:
The film is currently making its way around the festival circuit according to Deadline, so no word on when non-festival goers will get a chance to see it.
Though, Audra McDonald has released a music video from an original song from the film called "Beyond The Moon," which is also quite something to behold.
Related: Will Trailer Answers the Question, "What If William Shakespeare Was into Punk and Nipple Pasties?"
See What's Trending in W Video: