Rumer Has It
The Hollywood progeny on her Broadway debut as Roxie Hart in Chicago.
---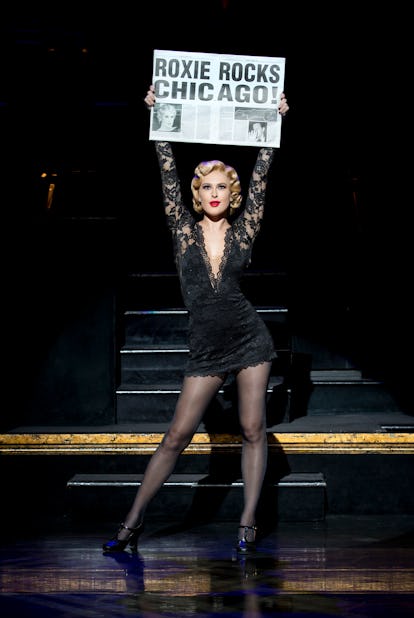 The past six months have been something of a major breakout for Rumer Willis. Though the 27 year-old has been acting since she was a child—her first role was in 1995 alongside her mother Demi Moore in Now and Then—and has a steady stream of television appearances on series like Army Wives, Pretty Little Liars and 90210, it was her astonishing routines on the spring season of the show Dancing with the Stars, which she won with her partner Valentin Chmerkovskiy, that propelled Willis to new heights of fame. It also revealed the actress-singer to be a triple threat.
Willis, the daughter of Moore and Bruce Willis, is putting her fancy footwork to good use in her Broadway debut in Chicago, in which she stars as Roxie Hart (through November 1st). Here Willis, who plans to release an EP in 2016, chats tangoing, rehearsing and telling her story through dance.
How did this opportunity come along and why did you, specifically, choose to make your Broadway debut in Chicago? I'd been asking my team for the last couple of years about it and then I was like, let's reach out to them and see what the possibility is. I was just finishing up Dancing with the Stars and I had a meeting here right before I started the tour and they offered me the job. [Chicago is] one of the first shows I remember seeing on Broadway. I was 12 or 13 maybe even younger. And I loved it. I thought it was so cool and the women looked so beautiful and it was so cheeky and smart and I loved the music. I just wanted to be a part of it.
Did you dance as a kid? Not really. I took the requisite ballet classes that every little girl takes. But because I was traveling with my parents I never really stuck with it. I've always had good rhythm and been able to work it while I'm on the dance floor, but I'd never had any proper training.
Ballroom dancing is not something a lot of children are exposed to. What were your associations with it before Dancing with the Stars? I honestly knew nothing about it. My only concept of a tango was from watching The Addams Family. I never knew it was a whole organization and all of these categories fell under ballroom dancing. There are so many different dances! I was blown away by the women and men who ballroom dance. I would sit there and be like, Man, I'm so mad at my parents, I wish they had kept me in dance classes when I was a kid.
I feel the same way at weddings. When the slow songs come on I'm like, why did my parents not better prepare me for this moment? Right? You can only do the high school slow dance move.
You've said that you took on Dancing with the Stars as a way to build up your confidence and deal with self-esteem issues. But you did that on a national stage, with millions of viewers. What made you choose that versus something on a smaller scale? They approached me a couple of years ago and I was like, there's no way I could ever do this. I was in a show about Baz Luhrmann [the cabaret For the Record: Baz Luhrmann in Los Angeles] and I was playing one of the characters [from Strictly Ballroom]. And we were by no means dancing properly and we didn't even have a proper ballroom dancer teaching us, so I was just doing choreography not knowing what I was doing and I really started to get into it. And then Dancing with the Stars approached me again and I thought, what an incredible opportunity. I basically get to have a world champion teach me how to dance and they're stuck with me for three months and they have no choice but to teach me and really help me become a great dancer. Why not? I think another part of it was I had the ability to tell my narrative and be able to share with the world who I am from my perspective and not have it just be determined by a press story. I was just happy to get the opportunity to be like, You know what? If you don't like me because of stuff you've heard, at least give me the opportunity to tell you who I am myself. And if you still don't like me after that, fine.
Now with Roxie in Chicago, how have you made that character your own? What's really incredible was I was able to work with Ann Reinking who choreographed it and she really liked the idea of using a lot of the things that I had learned in Dancing with the Stars. So she re-choreographed a lot of the dance numbers specifically for me to be able to add some of those pieces. She wanted to do a lot of lifts. And on top of that, the whole section in Roxie when I do a tango bit, that's all new. And a lot of the pieces of that are from a rumba that Val and I did.
On Dancing with the Stars your routines were all with Val and it was all about partnering together. Chicago is a very different style of dancing. How are you adjusting to that? You can know how to dance and not know how to partner. And knowing how to partner dance is a very huge part of being able to do all that ballroom stuff, being able to lift a girl or hold a good frame. So it was kind of interesting in rehearsal because a lot of the guys [in Chicago], some of them know partnering and some of them don't. So some of the time I was teaching them about partnering. And it was so trippy to be the one who has more knowledge and be a teacher to a certain extent.
You had live audiences for Dancing with the Stars, not to mention the television viewers. But Broadway is a different ballgame—have you been nervous at all? To be honest, it was more daunting standing on stage for Dancing with the Stars every week than on Broadway. It was quite funny, on opening night all my friends were like, are you okay? Aren't you nervous? And I was like, to be honest, it's really weird you guys, but I'm so calm right now. I wasn't nervous at all. I was just excited. Because you know three weeks [of rehearsals] seems like a lifetime after you have been doing [a television show] where you only get three days, basically, to learn a dance.
Rumer WIllis as Roxie Hart. Photo by Jeremy Daniel.
Amra-Faye Wright as Velma Kelly and Rumer Willis as Roxie Hart. Photo by Jeremy Daniel.
Denny Paschall, Rumer Willis as Roxie Hart, and Michael Scirrotto. Photo by Jeremy Daniel.