Hennessy Carolina Has Some Foolproof Holiday Fashion Advice
"It's a classic. It always works."
---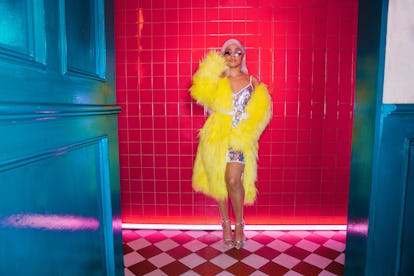 Charlotte Rutherford/Boohoo
With nearly four million Instagram followers, Hennessy Carolina is on her way to becoming a household name, just like her older sister. But she's not just known for being Cardi B's little sis or the feisty reality television sidekick anymore. She's also become a budding fashion darling in her own right. In September, she made her runway debut at Philipp Plein during Milan Fashion Week, and now she's been tapped as the face of British retailer Boohoo's holiday campaign.
In Los Angeles, over-the-top, colorful Boohoo parties have become the stuff of legend. And in a bit of a riff on Kanye West's song "No More Parties in L.A.," Hennessy Carolina is taking the lead role in the retailer's latest video campaign for the holidays. As a former star of VH1's Love & Hip Hop and MTV's The Challenge: Champs vs. Stars, being funny for the camera comes easily for the 22-year-old. In the video, Hennessy Carolina puts her comedy chops to the test in a rotating wardrobe filled with shimmering sequins, blue velvet, and fuzzy coats, as she tries to get a coveted spot on the Boohoo party list, alongside influencer tot Taylen Biggs.
Here, the New York native reflects on some of her favorite holiday memories with her family (and how they'll celebrate with their "new addition" this year), weighs the pros and cons of being bicoastal, and offers her tips for looking chic during the winter months.
When did you land in Los Angeles?
Yesterday. So there's some jet lag, but it's fine. [Laughs.]
The new Boohoo campaign that you just shot is very much about the L.A. party scene, but you seem like such a New York woman. What do you like about working in L.A.?
I like that it's different from New York. It just gives you a whole different vibe, but it still gives you an amazing feeling to be in L.A. I love the fashion, the sun shining, there's always happiness when you look up!
Would you ever consider moving there?
I really would move to L.A. I'm thinking so hard about it. Like, I wanna move to L.A. but I'm such a New York City girl. The fast life, the runways on the street, but I love L.A.'s vibe so I would move here but I'm still thinking about it! [Laughs.]
Speaking of runways, you recently walked for Philipp Plein in Milan. Was that your runway debut?
Yes! It was a dream.
What sparked your interest in fashion and modeling?
Fashion was always with me since I was young. I would always be like, "What do I want to be when I grow up?" And it hit me when I was young—I wanted to be a fashion designer. Fashion was always in me! The incentive to just get up and start my day by looking for an outfit to walk outside and look good, it was always in me. I think my parents and my family, my sister, when I was young, they always cared about, you know, looking good. My parents, they know how to dress. [Laughs.] I got it from my parents!
The video you're shooting with boohoo shows you getting into some crazy situations at parties, like not being recognized or having random run-ins with influencers in the bathroom. What's your experience been like at various fashion parties?
I just put my real self out there. I love to dress, and I love to get dressed up for parties. I love to be the best dressed at a party. So, I feel like it's really me. This collection is a holiday season collection, and I'm a December baby, so it really touches home. I love to go to parties, and I love to look good, so it's all connected. I can have crazy fun nights out, but I like to see all of the people at the parties, I love to see everybody dressed up really nicely. I always have a fun night when I go out to the fashion events!
What's your favorite holiday look?
My favorite holiday look would be either red velvet or sequins. That's always gonna be my go-to for a holiday look! It's a classic, it always works. It goes perfect with the occasion, and the weather. It's a feel. [Laughs.]
What are your favorite looks in this collection? Any textures or colors stand out for you?
I like the jumpsuit, it has cheetah print. I love the satin, the velvet, I love every look! I really can't choose one. It has everything that I would like for the holidays incorporated in it. Each piece is perfect! It has the velvets, the satins, the lace. It's gonna be cold, so I like the fur jacket they have.
What was your experience like filming the videos with Taylen Biggs for the campaign?
It was very fun! I always see Taylen around at fashion shows so we're just having fun like we usually always do. My little baby Taylen!
You mentioned that your birthday is in December, how are you planning to celebrate that?
Well, I like to do a birthday dinner, and then I like to go out to the club a little after. A little celebration, and have a few drinks. I think this year maybe I'll celebrate a little differently. Maybe I'll go on vacation, maybe I won't. Let's just see how it goes! [Laughs.]
Of course I follow you on Instagram and see all of the photos you and your girlfriend Michelle share of your dog—are you planning on dressing your dog up in a cute holiday outfit?
Oh, yes yes yes! Me and Michelle, we were already looking online yesterday to buy him some clothes. Jeremy Scott has some new things out for dogs so I'm like, oh my god I have to get that for Diesel! I have another dog named Valentino, but we leave him at my mother-in-law's house sometimes because she gets lonely. [Laughs.]
Do you have any funny holiday memories with your sister?
That's so funny you ask. On Halloween, especially, is where me and her would get creative. When we grew up, sometimes we didn't have enough money to buy a Halloween costume, so we would just look in our closet and make up a costume. Then, by ourselves, we would go down to the Village for the parade, and we would just walk around. People would stop us downtown and ask us for a picture! We'd be like, "What?! We just made this costume up from our closets!" I will always have that memory, we'd always have our own fun by ourselves.
How are you planning on celebrating some of the upcoming holidays as a family this year?
Just family dinners. Having a lot of dinners. Friends and family. We'll probably spend it at home, with our new addition to the family! Just gonna be home like we always do, with our family. Happy and in a loving environment.
And you'll all look good because, like you said, style runs in the family, right?
Yeah! That's right.
What's been the most fun part about working on the video for this campaign?
Literally, I don't know, everything! This shoot is the most fun part. It will all come to life!