Here's Lupita Nyong'o's Take on Raunch Stand-up, Because She Truly Can Do Anything
Is there anything Lupita can't do? The actresses charmed us with her rapping earlier this year and now tries out stand-up for Billy Eichner.
---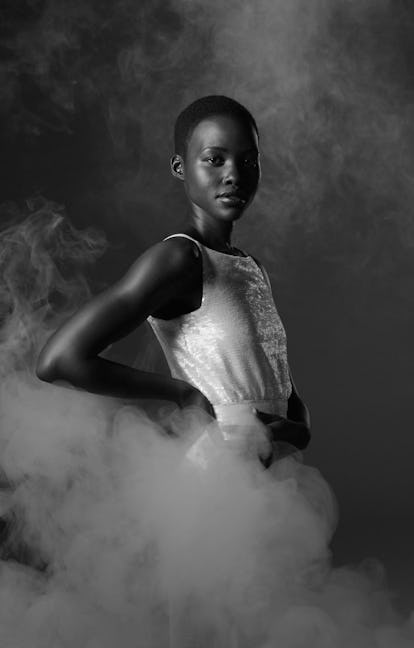 It was just three short years ago when the world had no idea who Lupita Nyong'o was. Then she got her first part in a major motion picture, and she proceeded to steal the whole show away from 12 Years a Slave castmates like Brad Pitt, Chiwetel Ejiofor and Sarah Paulson and walked off with a shiny gold supporting actress Academy Award for her troubles. Last year she made her Broadway debut in Eclipsed and acted her way to a Tony Award.
In her spare time between all of that she's managed to give life to the Star Wars universe's most intriguing new alien, work her magic in front of multiple photographers lenses as well as almost any professional model, pick up an appearance in the famed Pirelli calender, and is now getting buzz again for her turn in this year's Queen of Katwe.
This is also the year where she decided to make her rapping debut via an Instagram post. Her rhyme spitting alter ego is "Troublemaker," and despite the fact it was a one-off video, we're still eagerly awaiting that debut EP.
The question now doesn't seem to be what Lupita Nyong'o can do, but rather what she can't do to entertain us?
Can she sing? Can she dance? Can she do acrobatics? What about juggling or playing the trumpet …or juggling while playing the trumpet? What about stand-up comedy? Can she deliver raunchy punchlines with the best of them?
We don't know about the first few items on that list, but Billy Eichner decided to recruit Nyong'o to attempt the latter. For Billy on the Street, he accompanied the Oscar winner on a walk through New York's streets to recite portions of the stand-up routines of the likes of Andrew "Dice" Clay, Bob Saget, and Louis C.K.
The set-up was the idea that Nyong'o is attempting to land a half-hour comedy special on HBO or Netflix and needed to test out her comedic timing.
The result was that most of the pedestrians were either overwhelmed by her star power or, frankly, perplexed.
Of course, who wouldn't be perplexed by the idea of seeing a young, female Oscar winner repeat The Diceman's not quite comedic in the first place musings on nursing rhymes? Ok, maybe we could imagine Jennifer Lawrence doing that unprompted. Maybe.
Well, maybe there is something that Nyong'o can't do, maybe, but who knows, with her own, more appropriate material, and a properly warmed-up audience, she could probably do a decent job? We'd still probably watch her Netflix comedy special though.