Born into Style
For three generations, one London clan has had a front-row seat to the fashion revolution. Alexandra Marshall goes behind the seams with Joan and Sophie Hicks and Edie and Olympia Campbell.
---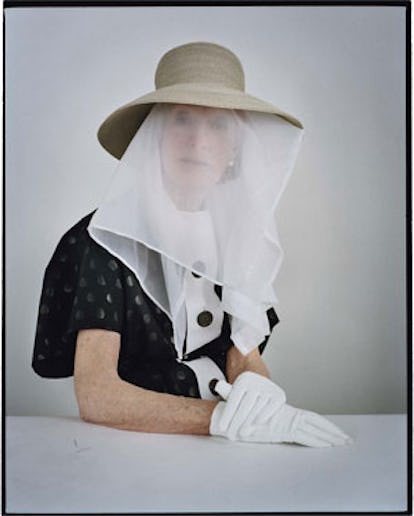 When Karl Lagerfeld chose 53-year-old Inès de la Fressange to star in Chanel's current ad campaign, he brought home a point that the fashion industry has slowly been waking up to for several seasons: Great style has no expiration date. Consider the fact, for example, that most of the first-name-only supermodels still working today—and there are many of them—are past 40. "Women of a certain age" have always been credited with possessing the wisdom of experience; finally we're ready to talk about their beauty, too.
Model Edie Campbell, 20, doesn't have to look beyond her own family to absorb that lesson. Since being discovered by Mario Testino at 15, she has been cast in ads for Burberry and Marc Jacobs, has walked the runway for Chanel, and has been shot by Bruce Weber. And she's the third generation of her family to work in the industry. Her mother, Sophie Hicks, is a former fashion editor at Tatler and British Vogue who also served as a stylist to Azzedine Alaïa. In 1987 Sophie embarked upon a career in architecture, designing about 100 Chloé boutiques, stores for Paul Smith, and Yohji Yamamoto's stunning Paris flagship. The matriarch of the clan, Sophie's mother, Joan Hicks, was a successful model in the Fifties who frequently worked with photographers Norman Parkinson and John French.
"They're three generations of women who have affected fashion in a memorable way, all really women of their time," says photographer Tim Walker, who shot these portraits of Joan, Sophie, and Edie—along with Edie's 15-year-old sister, Olympia, who has just starred in Walker's short film, "The Lost Explorer." Afterward, the family gathered at Sophie's mews house in London's Notting Hill neighborhood—Olympia with French homework in tow—to swap stories about their lives in fashion.
Joan, how old were you when you started? Joan Hicks: I was 18, and my father was rather­ horrified. This was in the days when you were supposed to do nothing but stay at home and help Mother. But some friends suggested I go to the agent Jean Bell, and it went from there. Back then you lugged around a suitcase full of jewelry and had to do your own hair and makeup. Sophie Hicks: Did you get more for modeling undies? JH: I never would do undies! SH: Edie does undies. JH: Jean Bell would never represent a girl who did that!
Were people better behaved then? JH: David Bailey and Terence Donovan both worked for John French then, as the boys who put the film in the cameras. And they were extremely well behaved in those days. David Bailey's later behavior was a new era, but by then I was a mum and stayed at home.
Did you have many opinions about how Sophie dressed when she was growing up? SH: You used to force me to wear horrible dresses with awful starched petticoats! JH: Well, that was when you were about four or five. Edie Campbell: And, Mum, you made me wear little dresses too. SH: Yes, but you liked your little dresses. EC: No! I wanted cool jeans! SH: I got you cool jeans from Paul Smith when you were eight or nine. But I had to wear dresses with stiff petticoats and matching knickers and a hat with a floppy brim. The embarrassment! JH: I can promise you, God's honor, you had no petticoats like that. But we won't argue. Obviously I was the most appalling mother.
Sophie, you started in the fashion department at Harpers & Queen at 17. Why so young? SH: I applied to be an editor of an all-teenage issue in 1978. After I finished school, I hassled them until they gave me a proper job. Going to fashion shows is a very fun thing to do in your late teens and early 20s—a lot more exciting than when you're 30.
You also worked with some legendary photographers. SH: Yes, Peter Lindbergh, Paolo Roversi, Bruce Weber…. I liked working with Arthur Elgort very much, and David Bailey. He was grumpy but quite liked it when people brought him interesting things to shoot, as he had gotten stuck slightly in a rut by then, doing an awful lot of German Vogue with models in Escada perched on rocks. I took a trip with him to Peru. Mind you, the model I made him use was ghastly! French and silent, and that was no good, because he likes a jolly person.
How did you feel when your daughter wanted to model? SH: Modeling will give you confidence, particularly when you're young. There's always a lot of competition in school, and some cow thinks she's the most beautiful person with the biggest tits. If your little girl can just happen to have her picture in an ad, it shuts them up. JH: I suppose that never really crossed my mind back then. I was just so delighted to get money, a huge amount for those days. And I had a very interesting time. Hermès once took me on a trip to North Africa. Those were the days when the Mamounia hotel in Marrakech was very chic. You would stay there and show the collection, and all these exceedingly rich women would order.
Sophie, did your fashion background help you in designing boutiques? SH: Definitely. It gave me a context. People think fashion is very superficial, but designers follow what's in the air. There's a smell, and they all get it. And they have incredibly strong views about what's right and what's wrong.
Do you appreciate fashion more now that you don't work in the industry? SH: I'm not interested in clothes. I mean, I am interested in clothes, but I don't like 99 percent of the clothes that are out there. EC: You like Comme des Garçons—and Alaïa, but you wouldn't wear it. SH: I keep telling him to do classic trousers again and he won't! I even took my old trousers to him, and he said, "Pfffth!" He's the best cutter.
Edie, what about you? EC: I like wearing things that are a bit off but not in a ridiculous "I'm wearing a huge hat" kind of way. More a socks with sandals way.
What's the hardest thing about modeling? EC: Probably loneliness. It's worse when everyone's speaking a different language. JH: For me, it was tiredness. If you were quite successful, you never had time for lunch, and then they'd want you to stay late, and then you'd have trouble getting to your next appointment.
What about the pressure to be very thin? JH: Oh, well, there weren't fat people back then. But don't get me on that because everybody gets so cross with me. We're clogging up the National Health Service because people are so obese now. EC: Mostly you can't eat because there are all these glossy-eyed anorexics staring at you with your fish pie. And people backstage at fashion shows can be so mean. One show I did, I'm the first to get there and actually manage to find a little plate of breakfast when this hairdresser yanks me away from the food. I say, "Hang on, I'm just going to grab some tea and food, and I'll bring it over." She says, "No, come now!" The cameramen are the worst too. You say, "I'm changing; can you please put the camera away?" And they say, "Oh, no, honey, I'm not filming you." But you can see the red light on! People need to take a breath and remember that it's only fashion. Relax. No one's going to die.
Sophie, why did you leave the industry? SH: I started to see the same trends happening over and over. And people would gush over new girls like they were the greatest things ever, just to drop them for a new one. Fashion got less gripping. We're so smothered by all these brands and cheap clothes now. Experimental dressing doesn't really exist anymore.
Olympia, after doing Tim's film, are you interested in modeling? Olympia Campbell: Yeah, if I'm offered.
Do you like having your picture taken? OC: I like the pictures after. It's not torture in the moment, but it's slightly embarrassing with people watching. SH: Olympia and her friends, one of the things they love to do is go to one another's houses and bring over their clothes. Then they dress each other up, make each other up, do each other's hair, and photograph themselves. OC: It's fun to dress someone up, but it's embarrassing to get it wrong.
What do you like to wear? EC: She wears little whimsical tops and little whimsical shorts and little silky things and high socks. JH: Well, we like a bit of whimsy-dimsy! EC: It's a bit Chloé but kind of Lolita. OC: What is Lolita? People keep saying that! EC and SH [in unison]: Read it!
Joan and Sophie Hicks and Edie and Olympia Campbell
Sophie Hicks and daughter Olympia Campbell

Photographer: Tim Walker
Joan on the cover of Elle

Photographer: Tim Walker
Edie Campbell on horseback in Tim Walker's studio

Photographer: Tim Walker
Sophie and Edie on the set of the photo shoot.

Photographer: Tim Walker
A page from Joan's modeling scrapbook

Photographer: Tim Walker
Edie Campbell

Hair and makeup by Rozelle Parry at Joy Goodman; Sophie Hicks's hair by Sibi at Daniel Hersheson; Production by Anna Zantiotis at And Production; Photography assistants: Emma Dalzell and James Stopforth

Photographer: Tim Walker